Hugh Wallace Critical of North's Hotel Sector
Published on Oct 27 2015 11:31 AM in Hotel tagged: Belfast / Northern Ireland / hospitality / Airbnb / B&Bs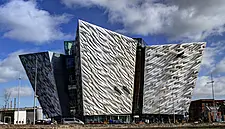 Hugh Wallace, one of Ireland's most well-known architects and RTE's Home of the Year judge, has criticised the Northern Irish hotel sector, saying its "nowhere near" current expectations.
The Dublin-based architect told the Irish News that the current quality of hotels in the North "way behind" on providing what present day tourists expect and it has failed to capture the attention of tourists from the Republic.
He mentioned that while Belfast has all the "fundamentals" for tourism, including Titanic Belfast (pictured), but the city itself is still behind in terms of its offerings in hospitality.
"It's 96 miles up the road and people just don't know about it. You have the most amazing countryside and hotels need to gear themselves up in terms of quality," said Wallace adding that hotels and B&Bs are "nowhere near" at the standard of modern expectations.
"Everything stopped in 2008 and nothing got refurbished. Unfortunately it is now 10 years on and therefore the product isn't available in Northern Ireland to meet the demand," added Wallce, who is a regular visitor to the North where he is currently working on hotel projects.
Despite Wallace's criticism, a recent report from PricewaterhouseCoopers revelaed that occupancy rates in Belfast are outperforming the rest of the UK, as average levels rose from 75 to 79 per cent in the first six months of the year.
Belfast also saw an increase of 15.8 per cent in RevPAR, and the increase in revenue was over three times the UK average. Despite rates still being below other UK cities such as London, Manchester and Edinburgh, PwC has predicted more growth to come for the city.