Iconic 'Fawlty Towers' Hotel to be Demolished
Published on Nov 12 2015 1:52 PM in Hotel tagged: Fawlty Towers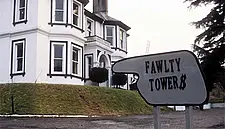 The Gleaneagles Hotel, the guesthouse that inspired the Fawlty Towers series, is set to be razed to make way for a retirement flats.
The hotel was visited by the Monty Python team in 1970, whereupon John Cleese was inpired to write the Basil Fawlty character after meeting the former owner, Donald Sinclair.
The future of the hotel has been an issue of debate for a long time, until the council recently made the decision to demolish and build 32 retirement homes on the location.
Beatrice Sinclair, wife of the the former owner, previously defended her husband, calling him a "gentleman and a very brave man" but one who didn't suffer fools.
However, Cleese's madcap portrayal of Sinclair, who died in 1981, "scraped only the tip of the iceberg" according to a former hotel employee.