Irish Hotels Driving Increases in Europe
Published on Apr 30 2015 3:04 PM in Hotel tagged: hotels / RevPAR / ADR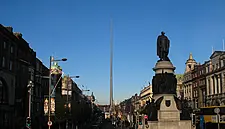 Irish hotels are leading the way in a upsurging European hotel market, as Average Daily Rate (ADR) and RevPAR were up significantly in March 2015 across the continent.
Irelands' 17.9 per cent increase in RevPar (up to €71.81), compared to the same month in 2014, was the highest in Northern Europe.
The country also had a strong showing in ADR, increasing by 9.4 per cent to €97.33.
Overall occupancy rates in Europe increased by 3.2 per cent to 66.5 per cent, according to Hotel News Resource. Germany, the UK and Spain all showed significant increases across the categories too.
Northern Europe saw double-digit growth for ADR (+14.2 percent to EUR110.53) and RevPAR (+16.2 percent to EUR80.31) when compared to March 2014, according to data compiled by STR Global.