K-Club Records Losses of €3.7 Million
Published on Apr 10 2015 10:00 AM in Hotel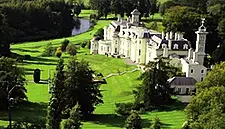 The operators of the five-star hotel, golf and leisure club the K Club in Kildare recorded a pre-tax loss of €3.725 million in 2013.
The loss comes despite revenues increasing for the year €11.6 million to €11.9 million in the calendar year, according to the Irish Independent.
The group posted a profit of €7 million in 2012 thanks to an exceptional gain of €30 million and a fixed asset impairment of €16.2m.
A €20 million expansion of the resort, which will see an extra 70 bedrooms added, is currently underway. The renovations will also see the conversion of a former spa into a 25,000 sqaure-foot conference centre and a second bar.
Chief executive Michael Davern has said that the K Club was "operationally break-even" last year as revenues increased by ten per cent to €13 million.