Leading Businessman Makes 'Substantial Investment' In Park Hotel Kenmare
Published on Jan 10 2017 10:01 AM in Hotel tagged: John Brennan / Fergal Naughton / Glen Dimplex / Park Hotel Kenmare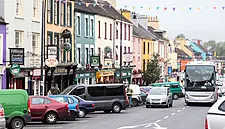 Businessman Fergal Naughton, CEO of Glen Dimplex, has invested €1 million into Park Hotel Kenmare, according to documents filed with the Companies Registration Office, in exchange for shares in the five-star property.
Managing director John Brennan told the The Sunday Independent that the deal was a "substantial investment" which has resulted in the hotel being free of bank debt and "given us the ability to look to the future with confidence and to ensure that the property will trade at the upper end of the five-star market for the future".
He added that Naughton's investment will provide them with the "ability to reinvest in the Park Hotel to a level that we wouldn't be able to do without this".
Co-owner Francis Brennan said "[the hotel] is very personal to me and it is not everyone I would share it with," adding that he was "very pleased" with Naughton's investment as the businessman had "spent [his] whole professional life in the Park Hotel Kenmare and nothing is closer to [his] heart".
The investment will see the hotel brought "to a level that can compete on the international stage" and will provide "the south west of Ireland with a property that is equal in facilities and quality to the investment that has been made in other properties in the country in recent years", according to John Brennan.