Nama Readies Carton House For Sale
Published on May 2 2017 2:48 PM in Hotel tagged: Nama / Carton hotel / Maynooth / Knightsbrook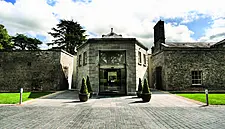 Nama is reportedly readying the four-star Carton House hotel resort in Co.Kildare for sale within the next two months.
The Sunday Times reports that Nama is close to selecting an agent to market the property, which is being earmarked as potentially one of the biggest sales of 2017, adding that the hotel was once in the Project Tolka portfolio, but was stripped out of the portfolio sale last year.
Carton, a 165-bedroom hotel, on 1,100 acres in Co Kildare, which is the training base of the Irish rugby team, was developed in 2000 at a cost of about €80m. In 2014, the company posted sales of €16.4m and made a profit before interest and rentals of €1.55m.
So far this year, there's been very few hotels formally launched for sale, with only seven hotels, with a total value of approximately €26 million, traded in the first quarter of 2017.
Last week, Knightsbrook, the popular Co.Meath resort that encompasses a 131 bedroom 4-star hotel, extensive conference and banqueting facilities, a health club/spa and an esteemed 18-hole golf course, went on the market with a guide price of €18 million.