West Cork's Eccles Hotel Undergoing Major Refurbishment
Published on May 15 2017 4:02 PM in Hotel tagged: Eccles / Ray Byrne / Eoin Doyle / Aileen Hanley / Glengarriff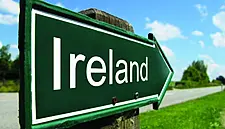 The Eccles hotel in Co. Cork is in the midst of a major refurbishment which will restore the aesthetic of its heyday when it opened its doors in the mid-eighteenth century.
Located in Glengarriff, the historic hotel was bought by hoteliers Ray Byrne and Eoin Doyle in 2016.
According to southernstar.ie, the hotel's owners have given manager Aileen Hanley free rein when it comes to coordinating the renovations and she currently has plans to open a new café in the building's former Captain's Bar as well as to completely overhaul the hotel's current paint scheme.
So far, 23 of the venue's 64 bedrooms have been refurbished with a further 12 planned to follow suit over the next month and a half. Hanley stated that a major sale of old ballroom furniture "was a huge success", while other antique furniture dating back more than two hundred years has been sent for restoration in a bid to establish the hotel as one of West's Cork premier venues.
Other plans for the hotel's revamp include a computerised ordering system, a brand new state-of-the-art kitchen, a new suite for small receptions such as civil partnerships and wedding ceremonies encompassing up to 100 guests and movie nights in the hotel's bar.