Morrissey's Releases Analysis Of Pubs Property Market in 2017
Published on Feb 28 2018 1:10 PM in Pub/Bar/Nightclub tagged: Trending Posts / Morrissey's / Review 2017/Outlook 2018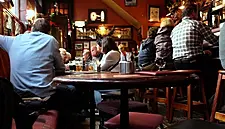 Property consultants Morrissey's has released its Review 2017/Outlook 2018 report which states that the licensed premises property market witnessed a large volume of distressed and insolvency associated transactions in 2017.
However, the report also notes that the number of these transactions completed in Dublin continued to decrease for the third consecutive year, with 31 transactions recorded in 2017 compared to 35 in 2016 and 39 in 2015.
Morrissey's attributed the decrease in Dublin transactions to a market that continues to realign to more normalised levels following the previous decade which was fuelled by legacy debt following the collapse of the property market in 2008.
The report states that 31 licensed premises changed hands in the Dublin market in 2017, reflecting 4.25% of the total of Dublin licensed premises population. This compares with 4.79% in 2016 and 5.34% in 2015. While a reduction in the overall volume of sales was recorded for the third year running, transactional activity was more in line with the normalised levels of approximately 5% of the market when compared to the lows which ranged from 0.64% to 1.55% throughout 2008-2012.
Meanwhile, Morrissey's said that the capital value of the market reduced from €67.17m in 2016 to €36.6m in 2017 with the average sale price achieved reducing from €1.78 million in 2016 to €1.18 million in 2017, more in-line with that of the 2015 market where the average sale price achieved was €1.1 million with a total market capital value of €43.33 million.
Outside of the Dublin market, sales activity was predominantly characterised by low value units in small towns or peripheral rural locations. According to the report, the key drivers attracting both interest and appetite for licensed premises outside of Dublin and other cities remain population and infrastructure, which Morrissey's says essentially means large towns and population centres including tourist destinations that enjoy good economies of scale and sustained employment.
In contrast, the report says that the provincial rural market continues to struggle with continued reports of closures of licensed premises, the bulk of which were located in sparsely populated districts with an oversupply of competing licensed premises.
Morrissey's found that The Fitzgerald Group, TP Smith Group, The Charlie Chawke Group, The Mangan Group and Cork Heritage Bars, which the reports notes are arguably Ireland's most well-known traditional pub groups, remained inactive in 2017 choosing instead to continue to consolidate and grow the trade in their existing portfolio.
Furthermore, the report reveals that more recently formed pub groups that had been aggressively expanding in recent years were also relatively inactive in 2017 and non-domestic operators JD Wetherspoon also remained inactive on the expansion front since their last licensed premises acquisition in 2015, instead continuing to focus on growing business in their existing five Irish units.
Distressed loans and insolvencies remained a driver throughout the 2017 market, but to a lesser extent than the preceding years. The reports states that 64.3% of sales completed in 2015 were insolvency related, with the figure reducing to 53.7% in 2016, and again to 42% in 2017, which Morrissey's says highlights the start of a return to a more normal functioning market.
Looking to the year ahead, Morrissey's expects market sentiment and intensification of funded purchasers experienced in 2017 to continue throughout 2018. The report asserts that the increase in demand will be met with a further reduction in sales motivated by insolvency and impaired loans.