Victor Mee Auctions Puts Pub Memorabilia Under The Hammer
Published on Dec 14 2017 3:19 PM in Pub/Bar/Nightclub tagged: auction / Cavan / Victor Mee Auctions / pub memorabilia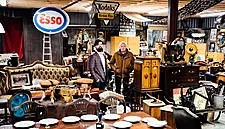 One of Ireland's leading auction houses, Victor Mee Auctions, is marking a decade in business with a significant investment to expand its premises to 4,800 square feet and further develop online channels to meet shifting consumer demand.
With the opening of its second auction house and development of the company's website, the County Cavan-based business now further caters to the growing number of overseas buyers bidding online for unique items.
Victor Mee Auctions will hold a pub-memorabilia, enamel-sign and vernacular sale on Friday 29 December at 2pm.

The business is owned and operated by two generations of the Mee family and provides some of the finest decorative antiques, fine arts, and pub memorabilia in Ireland and around the globe.
Commenting on the continued success of the business, Victor – who has worked in the antiques business for over 40 years – said, "Ten years on, it is crucial to continue to look toward the future for Victor Mee Auctions. Whilst we specialise in unique antiques and collectables, we are conscious of how important it is to stay in tune with modern trends. The overall age of our clients is dropping drastically. These shoppers are also favouring different time periods for decor, with a recent uplift in mid-century modern and industrial-inspired pieces, surpassing the previous preference for Edwardian and Victorian pieces."
Helping to future-proof the business, Victor Mee Auctions is turning to the Internet to grow its platform of bidders.
"Ten years ago, we only had buyers from across Ireland. Now we cater to a worldwide platform," added Bryan Mee, Victor's son and the second generation in the family-run business. "We have embraced social media and are also working to tap into online marketing trends, including influencer engagement, to help grow our brand across Ireland and beyond."
While the company is embracing a digital future, there is still value in the reputation of a trusted family business.
Bryan added, "Unlike other auction websites, where the consumer cannot be guaranteed the piece he or she is bidding on is authentic or in the condition described, shopping through the online presence of one of Ireland's most trusted auction houses helps bidders to ensure they are bidding on genuine items, which come backed by our years of expertise, but also get to experience the convenience of an online auction from the comfort of their home."
For more information on Victor Mee Auctions and to explore online catalogues for monthly sales, visit www.victormeeauctions.ie.