Dublin City Council Hears Recommendations To Boost Capital's Cafe/Restaurant Scene
Published on Jan 11 2017 3:17 PM in Restaurant tagged: Dublin City Council / cafes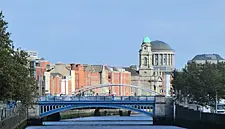 A list of 10 recommendations has been compiled by a group working for Dublin City Council to help boost the cafe and restaurant scene in the capital.
The recommendations, presented to councillors at a meeting on Monday, include cutting the costs of tables-and-chairs licences; exempting benches from street-furniture licences; and increasing the number of gardai, reports dublininquirer.com.
Discussing the proposals, Independent Councillor Cieran Perry provided a lukewarm response, pointing to the hospitality sector already benefiting for a 9% VAT rate, despite many employees in the sector being poorly paid.
"I don't think we should, as a council, be trying to limit what they are doing in terms of the costs," he said, asking for more information about the pay and conditions for hospitality workers in the city.
Labour's Rebecca Moynihan voiced her concerns about exempting benches from outdoor-furniture licensing, citing the fact that some cafe and restaurants 'obnoxiously' take over the public space and sphere.
Councillors agreed that the group's recommendations are in need of more work.