Dublin Hospitality Calls For Increased Gardaí Presence To Deal With 'Aggressive Begging'
Published on Jan 19 2017 11:34 AM in Restaurant tagged: Fáilte Ireland / Restaurants Association of Ireland / Adrian Cummins / Dublin City Council / Fumbally Cafe / Boxty House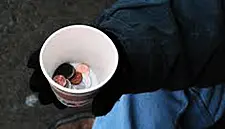 A report created for Dublin City Council, which included the participation of a number of cafés, restaurants and business interest groups, has recommended for an "increased presence of Gardaí on the streets" to act as a deterrent to anti-social behaviour, petty crime and aggressive and organised begging.
The report found that begging continues to be a "significant problem for the café and restaurant sectors".
Participants in the report included Adrian Cummins of the Restaurants Association of Ireland; Dublin Town; Temple Bar Company; Helen McDaid of Fáilte Ireland; The Bakehouse; Queen of Tarts; Fumbally Café; Woodstock Café; Boxty House; and Lovely Food Company, reports Thejournal.ie.
The reported stated: "A scheme has been set up called 'Temple Bar Assist' which is a licensed security company with licensed security guards who can call the Gardaí if needed. However, the security guards are powerless to deal with the influx of anti-social behaviour" and that "the notable absence of Gardaí on the streets of Dublin City means that aggressive begging and begging in the vicinity of business premises during business hours is going unchecked."
It went on to say that anti-social behaviour acts as a disincentive to Dublin workers socialising and shopping in Dublin City after work, to Greater Dublin and surrounding county residents coming into the city in the evenings and at weekends, and to tourists not recommending Dublin as a preferred destination to others.
It said that "begging is seen as a major threat to the comfort and safety of customers using outdoor seating" and that there needs to be clarification with the café and restaurant sector "in relation to the legality or otherwise of begging in Ireland".
The report also recommended examining the feasibility of reducing license fees for tables and chairs outside premises as well as exempting benches from outdoor furniture license and planning application.
Fianna Fáil councillor Paul McAuliffe, who oversaw the report, said that "the fact that tables and chairs on a city street are regulated by national legislation is preposterous".