Dublin's First Poké Restaurant Opens For Business
Published on May 23 2017 2:56 PM in Restaurant tagged: Capel Street / Poké / Niall Sabongi / Klaw Poké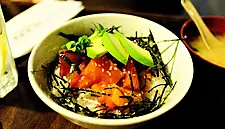 Restaurateur Niall Sabongi has introduced Dublin to the world of "Hawaiian Sushi" with the opening of the city's very first poké restaurant, Klaw PoKē, on Capel Street.
While many may be unfamiliar with the concept of poké, which usually encompasses a combination of raw tuna chunks, salmon and other seafood marinated in sesame and soy and mixed as a free-form salad, Sobangi said that the restaurant sold out on its opening day last Friday (May 19), as well as on the subsequent Saturday and Sunday, reports thetaste.ie.
Sabongi added that, "The reaction has been overwhelmingly positive and the best thing was that we saw the same people come back twice or three times."
The Klaw PoKē owner says that his "vision for [the restaurant] is to make seafood more accessible", adding that "It helps that poké is addictively tasty, really clean and healthy, and uses Irish seafood."
Klaw PoKē provides patrons with the opportunity to sample contemporary poke dishes served atop rice or salad bowls with a vast variety of toppings to choose from, including chargrilled yakitori tofu for vegetarian customers. The menu also features an assortment of fish tacos, lobster rolls, oysters and crab claws.