Here's Where the World's Best Chefs Love to Eat
Published on Nov 4 2016 12:19 PM in Restaurant tagged: Japan / London / New York / fine dining / sushi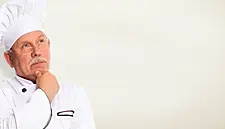 Leading chefs travel the world in search of excellence they can bring back home. And their social networks are often packed with people holding Michelin stars. So where are their favourite places to e...
Leading chefs travel the world in search of excellence they can bring back home. And their social networks are often packed with people holding Michelin stars. So where are their favourite places to eat out?
We asked. Some chefs couldn't settle on just one place, and others refused to pick favorites at all. European venues dominated the unscientific survey, but the places themselves ranged from a seaside fish shack to temples to food.
Here are their favorites:
France
Jason Atherton (Pollen Street Social, London): Flocon de Sel, Megève, France. "We go on our family ski holiday every year. It has so many memories for us and it feels like we are at home. The chef Emmanuel (Renaut) is a genius and his lovely wife is the best host."
Daniel Boulud (Daniel, New York): Le Suprême, Lyon, France. "It is new, it is unpretentious and it is still very inexpensive, with delicious food and a great local wine list."
Pierre Koffmann (Koffmann's, London): Restaurant de Bacon, Antibes, France. "They cook the perfect bouillabaisse. It is a very difficult dish to achieve and you have to have top-quality fish, which they do."
John Williams (The Ritz, London): George Blanc, Vonnas, France. "I have been there three times in 30 years and it truly sets the standard. It is a brilliant example of a classic evolutionary restaurant. It is always special to arrive at George Blanc and see how the place has evolved: It's always true to its roots but can show great innovation."
Anne-Sophie Pic (Maison Pic, Valence, France): Jean-Francois Piège, Paris. "I always like to visit him in Paris. I like to eat a pastry at Pierre Hermé (my favorite is plaisir sucré) and to buy a cake at Christophe Michalak. In Italy, I would visit the Alajmo brothers (Le Calandre, Padua) and my friend Nadia Santini (Dal Pescatore, Canneto sull'Oglio.)"
Italy
Mauro Colagreco (Mirazur, Menton, France): San Biagio della Cima, Italy. "The first place that comes to my mind is La Vecchia Ostaia in Liguria. The owner is an incredible woman, one of those good, old-style Italian moms that makes sure you don't leave her place still hungry."
England
Fergus Henderson (St. John, London): Sweetings, London: "It is only open for lunch,  which gives the taking of lunch a certain focus. I often wake up craving a Sweetings fix and, being a creature of habit, for years my lunch was always scampi, chips and peas. I must announce a change: My lunch is now plaice, chips and peas."
Tom Kerridge (Hand & Flowers, Marlow, England): The Sportsman, Kent, England. "Steve Harris is such a great cook and he served wonderfully sourced products, all about using great British ingredients that are local to him, celebrating the British Isles in the best possible way in an unfussy and unpretentious surrounding."
Michel Roux Jr. (Le Gavroche, London): Riley's Fish Shack, North Shields, England: "I went there a couple of months ago and it is bloody good: Only a beach shack but well worth it. Or we could go for Troisgros, in Roanne, France."
Karam Sethi (Gymkhana, London):  Yauatcha, London. "It is hard to find better dim sum anywhere. It's so fresh and packed full of flavor and so original in style."
Atul Kochhar (Benares, London): StreetXO, London. "Currently, this is my favorite spot. It's run by a friend of mine, David Munoz. It's completely mad and eccentric and it's going to be a fantastic addition to the London food scene. It's a mix of European, Asian and South American cuisines. The food and cocktails are out of this world."
Monaco
Clare Smyth (Gordon Ramsay, London): Louis XV, Monaco. "It is the most glamorous restaurant in the world in the most glamorous location, yet the staff are down to earth and make you feel so special. That is not even to mention the food. It is the height of simplicity, done in such a sophisticated way."
Spain
José Andrés (Minibar, Washington, D.C.): Rompeolas, Tazones, Spain: "It's an unpretentious place with no menu overlooking the open sea, where only creatures of the sea just caught in front of the beach you see are served next to an Asturias cider or best champagne. It's a husband and wife, Toya and Jose."
Raphael Duntoye (La Petite Maison, London): Asador Etxebarri, Atxondo, Spain. "Simplicity at its best. Tough to beat."
Ashley Palmer-Watts (Dinner by Heston Blumenthal, Melbourne): Asador Etxebarri, Atxondo, Spain. "It is hard to pick a favorite but I would certainly make a big detour for Asador Etxebarri. I love the simplicity and subtle complexity of Victor (Arguinzoniz's) cooking, showcasing incredible produce."
Hélène Darroze (Hélène Darroze at the Connaught, London): Gambara, San Sebastian. It is a famous pintxos bar in the old city, owned by a family. The chef is the mother, Amaia. The food is just amazing with the most beautiful and fresh products of the market, the fishing, the hunting. The ambiance is incredible."
Switzerland
Vineet Bhatia (Vineet Bhatia, London): Chesa Veglia, St Moritz, Switzerland. "It's the most beautiful farmhouse converted into a restaurant serving some amazing simple rustic Italian food and wonderful wines. My favorite is the lobster and blue-cheese pizza with a good Italian red. The settings and the views in the winter are amazing."
Daniel Humm (Eleven Madison Park, New York): Kronenhalle in Zurich. "I go there for Zürcher Geschnetzeltes, a glass of champagne, and to admire one of the greatest collections of art in the world. Elkano in (San Sebastian) Spain for the incredible turbot. And Ferme Auberge Le Castelas, a goat farm in Provence (France), for whatever they are serving."
U.S.
Virgilio Martinez (Central, Lima): The Willows Inn, Lummi Island, Washington. "What Blaine Wetzel is doing is amazing: His natural approach to food and his real involvement with farms and producers is outstanding. The great thing about this place is that it transmits calm. There are great non-alcoholic drinks pairings, too."
Joan Roca (El Celler de Can Roca, Girona, Spain):  Cosme, New York. "I've just been there and have wonderful memories of the meal Enrique (Olvera) cooked for us."
Japan
Jean-Georges Vongerichten (Jean-Georges, New York): Sushi Matsue, Tokyo. "There are only a few seats but everything I have tasted there has been incredible, with the freshest of produce and different types of rice. The food is so clear, so clean."
News by Bloomberg, edited by Hospitality Ireland