Leinster Winners Announced for Irish Restaurant Awards
Published on Apr 7 2015 2:56 PM in Restaurant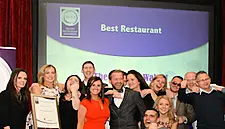 The top restaurants in Leinster were recognised by the Irish Restaurants Awards as the regional winners were announced this week in Clyde Court Hotel, Ballsbridge.
The winners from each of the 11 counties (outside Dublin) in the province were awarded and a shortlist for Dublin restaurants was created ahead of the All-Ireland awards in May.
Over 40 restaurants, hotel restaurants and chefs were honoured at the awards, where over 500 restaurateurs and staff celebrated their hard work. Some 30,000 nominations were cast across the 12 contested categories.
Adrian Cummins, chief executive of the Restaurants Association of Ireland, spoke about how the awards have gained such prestige in its seven years in operation, which was reflected by the amount of nominations.
"These awards celebrate the people that make the restaurant sector the dynamic and exciting industry it is. They are the people who provide 72,000 jobs to our economy and generate revenue in excess of €2 billion. We're recognising the talent, hard work and commitment that everyone here gives to the food industry," added Cummins.
The categories were: Best Customer Service, Best Gastro Pub, Best Casual Dining, Best Hotel Restaurant, Best Chef, Best Restaurant, Best Wine Experience, Best Restaurant Manager, Best Kids Size Me Menu, Local Food Hero, Best Emerging Irish Cuisine and Best Newcomer.
A notable winner was the Aldridge Lodge in Wexford, which won the county's best restaurant and best chef (Billy Whitty) for the fourth consecutive year.
The full list of winners are available on the website, below are the county winners and the Dublin shortlisted restaurants:
Best Restaurant
Carlow- Sha-Roe Bistro Kildare- The Brown Bear Restaurant Kilkenny- Campagne Laois- The Candied Walnut Longford- Black Olive Restaurant Louth- The Bay Tree Restaurant Meath- Zucchini's Offaly- The Blue Apron Restaurant Westmeath- Thyme Restaurant Wexford- Aldridge Lodge Restaurant Wicklow- Chakra by Jaipur Dublin Shortlist for Best Restaurant
Amuse Ananda Chapter One Dax Restaurant Forest Avenue Restaurant Forty One Restaurant Patrick Guilbaud Saison The Greenhouse One Pico