Lough Erne Resort Scoops Northern Ireland 'Hotel Restaurant of the Year'
Published on Dec 1 2016 11:35 AM in Restaurant tagged: Lough Erne Resort / Northern Ireland Hotels Federation / Galgorm Resort & Spa / Corick House Hotel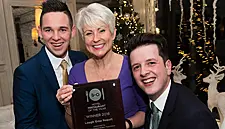 As part of the Year of Food and Drink, the Northern Ireland Hotels Federation hosted a competition to find the best Hotel Restaurant in Northern Ireland.
Earlier this week, some of Northern Ireland's leading hotels gathered in the Galgorm Resort & Spa to find out which establishment would collect the prestigious accolade of 'Hotel Restaurant of the Year 2016'.
Explaining the competition aims and the importance of using local products Ciaran O'Neill, President of the Northern Ireland Hotels Federation said: "As a Federation we are keen to highlight the complex role of the modern chef and celebrate the great people we have in our businesses. We have a growing tourism industry in Northern Ireland and food is playing an increasingly large role in this. In the culinary world, the hotel restaurant is often seen as the poor cousin.
"Hotels have a long history of great food and drink. Many modern dishes like Caesar Salad and Eggs Benedict were invented in hotels along with cocktails such as the Pina Colada and Singapore Sling.  This competition provides a platform to showcase local Northern Ireland produce and to help us celebrate some of the exceptional local ingredients on offer.  Events like this will help us to recognise the great people we have in our businesses and highlight the great service we give."
O'Neill added: "There has been a lot of coverage relating to skills shortages, particularly chefs, and it is important that we recognise the fantastic job they do. I started my career as a chef and I believe that there are great opportunities for our young people in the kitchen and front of house. Tourism is growing and offers an excellent career path."
 The title of 'Hotel Restaurant of the Year 2016' went to Lough Erne Resort, where the dining experience was descried as  "a faultless evening with local ingredients taking centre stage".
Lough Erne also secured the Best Main Course category and the Best Service awards on the night with Chef Andrew McKee and Lee Brunt honoured. The Best Dessert category supported by the FSA was won by Corick House Hotel and Spa who produced the "perfect dessert" using a selection of local ingredients from a mystery basket selection.
O'Neill concludes: "I would like to extend whole-hearted congratulations to all of our award winners.  The hospitality industry is competitive and these hotels are clearly delivering an excellent standard of service and in the process creating a positive image of Northern Ireland. Well done!"
The 2016 winners and categories:
Hotel Restaurant of the Year 2016:
Winner: Lough Erne Resort & Spa, Enniskillen
Runner up: Corick House Hotel & Spa, Clogher
Third Place: Bishop's Gate Hotel, Derry-Londonderry
Best Main Course
Winner: Andrew McKee, Lough Erne Resort & Spa, Enniskillen
Runner up: Leigh Thurston, Beech Hill Country House, Derry-Londonderry
Best Dessert:
Winner: Aaron Duffy, Corick House Hotel & Spa, Clogher
Runner up: Andrew McKee, Lough Erne Resort & Spa, Enniskillen
Best Service:
Winner: Lee Brunt, Lough Erne Resort & Spa
Runner up: Ilona Tomczak, Holiday Inn, Belfast City Centre