McDonald's Axes Seven Sandwiches in the US
Published on Apr 28 2015 9:21 PM in Restaurant tagged: McDonald's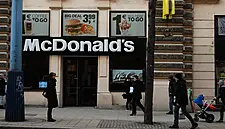 In an effort to speed up its kitchens and simplify customers' choices, McDonald's got rid of the Deluxe Quarter Pounder burger and six chicken sandwiches in the US in the first quarter. The chain, which has talked for years about paring slow-selling items, also nixed honey mustard and chipotle barbecue snack wraps.
"It was a 'rolling removal,' meaning restaurants discontinued serving them as their supply depleted," said Lisa McComb, a company spokeswoman.
McDonald's new chief executive officer, Steve Easterbrook, is facing six straight quarters of declining same-stores sales in the US, along with pressure to sell healthier fare. While axing some sandwiches helps to condense the bloated menu, McDonald's still has about 40 more items than it did in 2007, according to menu researcher Datassential in Los Angeles.
"They could cut their burger number in half," said Michelle Greenwald, a marketing professor at Columbia Business School in New York City.
"If you have a good burger, a really, really good burger, you don't need a million," she said. "They should go for quality and not quantity."
"There will be further moves on menu simplification coming up now, because we have a number of tests in place," Easterbrook said during an earnings call last week. Easterbrook will unveil his turnaround plan for the struggling chain next week.
Bloomberg News, edited by Hospitality Ireland