McDonald's Are 'Lovin' Increase In Irish Profits
Published on Nov 14 2016 11:07 AM in Restaurant tagged: McDonald's / McDonald's Restaurants of Ireland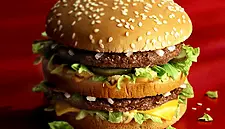 McDonald's Restaurants of Ireland has reported an increase in turnover by 5 per cent to around €86 million and seen its after-tax profits grow by 10 per cent to €10.4 million for 2015.
The newly-filed accounts for 2015 show that the number of McDonald's outlets in Ireland grew to 77, with the company saying that the increase in sales and profits was due to its expanded footprint and not because of improved performance at its current outlets, reports The Irish Times.
It also stated that the McDonald's master franchisor for Ireland kicked a dividend of €11.5 million to its owner, the UK McDonald's division, and that the Irish franchisor accumulated profits of €120 million in the Irish market.
The fast-food chain, which directly employs 940 staff in Ireland, recently opened its 90th restaurant at East Wall Road in Dublin and has plans to construct a two-storey outlet in Co Kerry.