What Is Nduja and Why Is It Suddenly on Every Menu?
Published on Dec 14 2016 10:37 AM in Restaurant tagged: Pizza / Nduja / Calabrians / Spotted Pig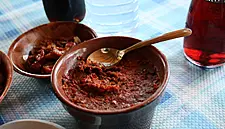 When chef Francesco Mazzei put nduja on the menu in London back in 2006, he had to add a note explaining what it was: a spicy, spreadable sausage from his native Calabria in southern Italy.
"No one had heard of it," Mazzei says. "But the flavour is amazing. And I also wanted to provide business for Calabrians."
Now, the ingredient is showing up everywhere: on pizza, stuffed inside squid, sprinkled in pasta dishes and even on supermarket shelves.
Nduja — pronounced, in Mazzei's Calabrian accent, as in-DOOJ-ah — is made with pork fat, herbs and spices, along with spicy Calabrian peppers, which give nduja chili heat and a distinctive red color. It originated in Vibo Valentia province, and much of it still comes from the town of Spilinga.
"It's great with anything from burrata to shellfish to pizza, and you can whack it in almost any pasta," said Jacob Kenedy, the chef behind Bocca di Lupo, near Piccadilly Circus in London. "It's the go-to ingredient for a bit of a kick. It's like a non-vegetarian chili oil."
Kenedy has served regional Italian dishes such as orecchiette with nduja, red onion, tomato and rocket at Bocca di Lupo. (It's not on the menu currently, but he says he can make it if you ask ahead.) The flavor works particularly well for the British palate, he says.
"Nduja deserves to be popular because it is fiery-hot and piggy, which are two very good things together," Kenedy says.
In New York, April Bloomfield, the chef at the Spotted Pig, is a fan. Her dishes include squid stuffed with nduja. There's even an American version of nduja, made in Iowa by La Quercia.
One of the main manufacturers in Calabria is San Vincenzo di Fernando Rota. Export Manager Claudio Talarico has noticed increased demand from across Europe, especially in the past three or four years. "Francesco Mazzei was one of the first chefs in England to buy from us," Talarico says.
The name is probably a derivative of the French andouille, according to Academia Barilla, the Italian Food Academy. When the French fought the Spanish in southern Italy in the early 19th century, they may have helped in the development of nduja.
There are also similarities to the Spanish cured sausage, sobrasada.
"It's cool to cook with," says Michelin-starred chef Jason Atherton, who serves an onion dish with tomato and nduja sauce at his new restaurant, Temple and Sons, in London's financial district. "You get this really umami, yummy, spicy taste and people love spicy food. They want a little bit of a kick in their food."
The ingredient is becoming readily available in the U.K. In April 2015, British retailer Marks & Spencer started to sell a spicy-nduja-and-tomato pasta sauce made in Calabria, by Saor Italia. "It's been flying off the shelf," says Lesley Anderson,  the store's groceries product developer, who called it the "ingredient of the moment." M&S plans to offer new pasta dishes using nduja next year, Anderson says.
So what is next? Watch out for gochujang, a Korean fermented chili paste. It's already sold in Waitrose, a higher-end British grocery store, and is starting to appear on menus as London chefs very belatedly discover a fabulous and distinctive Asian cuisine. It's served at StreetXO, the new London restaurant of Madrid chef David Muñoz, which opened this month.
Korean lasagna XO style with aged Galician beef, shitake, gochujang hot 'n' sour tomato sauce and cardamom béchamel anyone?
News by Bloomberg, edited by hospitality Ireland