Owners Planning 'High-Quality Dining' For Clery's Department Store
Published on Nov 21 2016 12:55 PM in Restaurant tagged: Dublin City Council / Clery's / OCS Properties / Heron & Grey / Deirdre Foley / John Spain Associates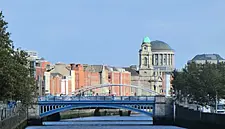 Plans for the addition of a new 'rooftop destination' to Clery's department store in Dublin are progressing as the building's new owners have pledged to bring high-quality dining to O'Connell Street.
Responding to a request for more information from Dublin City Council planners, OCS Properties said it plans to address what it considers to be a lack of quality restaurants around O'Connell Street. The group, headed by Deirdre Foley, commented that there is a "predominance of lower grade café/restaurant and fast-food type uses" in the surrounding area, reports The Irish Independent.
Planning and Development Consultants John Spain Associates echoed a similar sentiment, saying that around 90 per cent of restaurants featured recently in the 'Dine in Dublin' promotional campaign were based in the south of the city. That area has had nearly 1,500 restaurant seats added in recent years, however the group commented that the north of the city had been "left behind".
The application referenced Ireland's latest new Michelin-star restaurant, saying, "Heron and Grey in Blackrock market in Dublin, which is tiny, seats at a maximum 20 covers and is less than 500 sq ft."