Paris Restaurant's London Outpost Plans 110 Wines by the Glass
Published on Jul 31 2015 7:22 AM in Restaurant tagged: Taillevent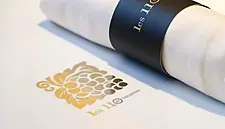 The two-Michelin-star Paris restaurant Taillevent plans to open a London brasserie at  which 110 wines will be available by the glass.
Les 110 de Taillevent, on Cavendish Square, will serve classic French cuisine in a smart brasserie where pairings will be offered at a range of prices likely to start at about £5 ($7.80) a glass. It will serve all day, including breakfast.
Restaurants from France have had a rough ride in London, where Le Chabanaisarrived this month to mixed reviews. Even Alain Ducasse faced criticism when he opened at the Dorchester.
"It's a big challenge to settle in London," says Laurent Gardinier, who heads the Taillevent group with his brothers, Thierry and Stephane. "We don't want to be arrogant. We're bringing French gastronomic food from Paris to here, but we're going to adapt it to what London people like."
Taillevent has hired London veterans to run the brasserie. General manager Giuseppe Dewilde's resume includes the Bleeding Heart, Cafe Royal, Quaglino's, Bluebird, Le Pont de la Tour, and Bentley's. Head chef Robert Panek has worked at the Don, Le Pont de la Tour, Etihad Airways, Bob Bob Ricard, and Bluebird Café.
Prices have yet to be confirmed for Les 110 de Taillevent, which is scheduled to open on Sept. 16. The brothers expect average spending of about £70 a person. A prix fixe menu will be available at lunch and dinner and may cost about £35.
A Wine Time menu with small plates will be served at the bar in the early evening. The à la carte menu is by Alain Solivérès, executive chef director of Taillevent Paris; the wine list is by Pierre Bérot, cellar director of Taillevent Paris. The designs are by Pierre-Yves Rochon and refer to wine production.
Bloomberg News, edited by Hospitality Ireland