Pizza Hut Has an Answer for LeBron and All the Pizzeria Upstarts
Published on Jan 20 2016 11:07 AM in Restaurant tagged: pizza hut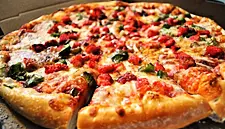 Americans are buying more pizza than ever, but Pizza Hut - which has been feeding that appetite for more than a half-century - is getting a shrinking slice of the pie.
The industry leader, owned by Yum! Brands, has a plan to reverse that decline, one that borrows from the upstarts nibbling at its market share. Texas is the testing ground for the 58-year-old chain's innovations, including hotter ovens that can deliver lunchtime pies faster, and sleeker interiors with bar seating for customers to enjoy a beer.
It's an uphill task because competitors seem to have a better line on what kind of pies Americans want, and how they want them. Diners-out are drawn to a growing number of fast- casual joints where companies like Blaze Pizza - in which LeBron James is a partner - offer fancier toppings and customers get to watch their meals take shape. Eaters-in increasingly prefer to tap out their orders on mobile phones -- then send them to Domino's Pizza.
"Changing their positioning with consumers is going to be really tough," said Bob Goldin, vice chairman at industry researcher Technomic in Chicago. "Pizza Hut is just kind of in the middle. The middle is a tough place to be."
So how's it going in Lantana, Texas, which hosts one of the two Pizza Hut outlets where the rebranding is on trial? The interior has a modern look: pendant-style industrial lights, and exposed rock on the walls. New ovens can cook pizzas at 575 degrees Fahrenheit in just three minutes -- about 25 percent faster than the older version.
"Our goal is to have restaurants that are easy to operate, accessible and inviting," said David Gibbs, chief executive officer of the chain. "The new concept is designed for speed."
Another 1,000 of the ovens are due to be rolled out nationwide this year. The one in Lantana, says General Manager Terri Smith, is drawing crowds at lunchtimes, when 90 percent of customers are ordering the new $5 lunch special: a nine-inch, three-topping pizza and a drink. The extra speed makes a difference "when people have 30-minute lunch breaks," she said. Diners also like the open kitchen, which allows them to watch employees take the dough out of coolers, top it, bake it and slice it, she said: "they can see it from start to finish."
News by Bloomberg, edited by Hospitality Ireland