Popular Tapas And Wine Bar To Expand, While Dublin Welcomes New Fine-Dining Experience
Published on Dec 2 2016 12:59 PM in Restaurant tagged: Pimento / Paddy Mullins / ember / Bagots Hutton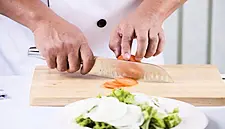 Pimento Wine & Tapas, which opened in November 2015 in Carlow, is looking to open a second venue in Kilkenny, reports the Sunday Business Post.
The popular 120-seater restaurant, owned by Paddy Mullins, serves tapas dishes inspired by a range of different cuisines.
Mullins, who was previously chef de partie at Michelin-starred Mount Juliet in Kilkenny, originally opened Pimento after noticing another tapas bar in Carlow being unable to "cope with the volume of people that wanted to eat tapas every weekend. They were having to turn people away continually, because they just didn't have enough tables". He added that "tapas has become a global trend and it seems to be the way people want to eat out nowadays".
Meanwhile, Milltown in Dublin has welcomed a new 'modern Irish neighbourhood restaurant and casual fine-dining experience' called ember. Owner Greg O'Mahoney has previously worked at the likes of Chapter One, l'Ecrivain, Pichet, the Milesian and Gregory's Garden in Kerry. Menu options include chestnut velouté with buttermilk potato and smoked chicken; bone marrow, razor clam, 63 degree-cooked egg with black garlic and sourdough; and black sole Basque-style with boulangère potatoes.
Bagots Hutton Wine Emporium has opened a new wine bar on Dublin's Ormond Quay. Run by Giovanni Viscardi and Brian Deery, the 120-seater wine bar will also have a 'BH Club' in the basement with live entertainment and table service as well as serving Mediterranean food reports thetaste.ie.