Super-Rich Knock London Restaurants off Their Perch
Published on Apr 2 2015 4:02 PM in Restaurant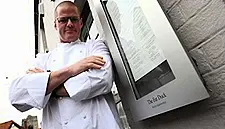 London restaurants are losing their standing among the super-rich, according to a survey carried out by luxury lifestyle magazine Elite Traveler.
The publication, which describes itself as "the private jet lifestyle magazine", releases its World's Top 100 Restaurants survey every year, and this year its readers downgraded London eateries, with the number entries making the list dropping by one quarter.
The list - which was voted for by a group of 4000 readers who peruse the magazine while aboard private jets - saw only eight UK entries, and only Heston Blumenthal's The Fat Duck in Berkshire (pictured) cracked the top 10 .
All other UK entries slipped from their 2014 ranking and some were jettisoned from the list altogether, including Alain Ducasse at the Dorchester and Nobu in London, as reported in the Financial Times.
There was room for one Irish entry as Ireland's only two-star Michelin restaurant, Patrick Guilbaud, came in at #74.
Alinea in Chicago retained its #1 spot for the fourth consecutive year, one of 19 US restaurants to feature in the list, ahead of France's 14 in second.
Peter Harden, co-founder of the Harden's Guide, was critical of the list and its devaluing of London spots, saying: "The unifying factor of people who travel by private jet is probably that they have more money than sense, and follow fashion rather than set it."
Elite Traveler is a New York-based magazine, published bi-monthly. Its 100,000-strong circulation boasts an average household income of $2.28 million.