Taco Bell to Start First Customer-Loyalty Program
Published on Apr 16 2015 8:39 PM in Restaurant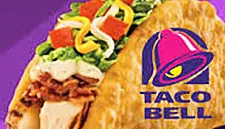 Taco Bell will start its first customer- loyalty program later this year in an effort to keep diners coming into the restaurants regularly.
Taco Bell's loyalty program will be a part of the chain's mobile-phone application, said Tressie Lieberman, senior director of digital platforms and social engagement.
"We're thinking of our experience as more of a game and less your traditional punch card," she said, while declining to provide the name of the plan or any details about how it will work. The app and loyalty program are geared toward increasing customers' visits to Taco Bell locations, Lieberman said.
The company earlier this month filed a US trademark application for "Taco Baller" for a customer-loyalty program and restaurant services. Lieberman said Taco Baller isn't the name of the new program.
The Taco Bell app, introduced last year, has been downloaded about 2.5 million times, Lieberman said. That helped the chain post a 6 per cent same-store sales increase in the fourth quarter. Taco Bell also recently introduced a line of breakfast Biscuit Tacos that wrap taco-shaped biscuits around ingredients such as chicken, gravy, eggs and sausage.
Taco Bell, owned by Yum! Brands Inc., offers mobile ordering and payment in about 6,000 U.S. restaurants. There are about 6,200 locations globally.
Bloomberg News, edited by Hospitality Ireland