Top Ulster Restaurants Announced at RAI Awards
Published on Apr 8 2015 1:20 PM in Restaurant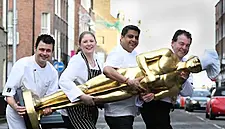 Over 70 restaurants in Ulster were recognised by the Irish Restaurant Awards 2015, as the Ulster Regional Final took place in The Titanic Belfast.
After the Leinster winners were announced yesterday, the individual Ulster county winners were revealed, judging across nine different categories.
The contested categories were: Best Restaurant, Best Chef, Best Restaurant Manager, Best Hotel Restaurant, Best Casual Dining, Best Gastro Pub, Best Customer Service, Best Wine Experience, Best Emerging Irish Cuisine, Best Kids Size Me and Local Food Hero.
The county winners and the will now contest for the Regional and All-Ireland Awards, the latter of which will take place in Dublin on 25 May.
The contestants will be judged based on three criteria; a mystery guest visit, the National Awards Academy which is a judging panel made up of food representatives, and a menu judging.
The full list of winners are available on the website, below are the county winners for Best Restaurant and Best Casual Dining:
Best Restaurant – Sponsored by Dalcassian & Wakefield Wines
Antrim- OX Armagh- The Moody Bar Cavan- MacNean House and Restaurant Derry- Browns Restaurant & Champagne Lounge Donegal- Harry's Restaurant Down- The Boat House Restaurant Fermanagh- Watermill Lodge Restaurant Monaghan- Courthouse Restaurant Tyrone- Black Cat Restaurant Best Casual Dining – Sponsored by Total Produce
Antrim- Graze Armagh- Uluru Cavan- Ashcourt at Crover House Hotel Derry- Harry's Shack Donegal- Browns on the Green Down- Art Bar Funkel Fermanagh- Franco's Restaurant Monaghan- Bistro Restaurant at The Fiddlers Elbow Tyrone- Deli On The Green