Value Of English Wines Grows 16% To £132 Million
Published on Jul 13 2017 11:43 AM in Retail tagged: Wine / England / Funding Options / English wines / Conrad Ford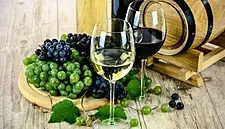 The value of the English wine industry increased last year to £132 million, marking a year-on-year rise in value of 16%, according to research conducted by Funding Options.
Furthermore, its value has more than doubled over the last five years, according to the market analysis body. Over the course of 2016, 64 new businesses acquired licences to make wine in England.
Funding Options notes that 'although English wine may not always have been seen as a serious competitor to more traditional wine-growing regions, it has in recent years become a major growth industry. Growing national and international recognition is further helping to shift consumer attitudes and increase the price per bottle.'
Growing Industry
Conrad Ford, founder of Funding Options, said, "The English wine industry is not only gaining traction amongst domestic consumers, but is now being ranked with wines from traditional white wine-producing countries such as France and Germany".
"Wine growers need to reduce restrictions on production and capacity to ensure consistent, sustainable growth in the long-term. The fall in the value of sterling serves to showcase exactly how producers need to be able to increase capacity to react quickly to changing market conditions."
"In an industry with expensive, advanced machinery, a lack of sufficient funding, particularly for many smaller and medium-sized producers, can restrict volume capacity," he added.
"However, many wine growers will not fit the risk profile for larger high street banks when looking for lending to increase production. Winemakers need to look at all the options open to them for funding when looking to grow."
© 2017 European Supermarket Magazine. Article by Peter Donnelly.