Keurig's Cold-Drink Machine May Be Hotter Than Coffee, Coke Says
Published on Apr 22 2015 9:50 PM in Drinks tagged: Coca-Cola / Keurig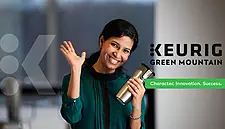 A new Keurig single-serve soda maker due later this year may be a hotter item than the company's dominant coffee brewer, Coca-Cola chief executive officer Muhtar Kent said.
The device, developed by Keurig Green Mountain with help from investor Coca-Cola, will allow consumers to mix individual branded soft drinks at home. Keurig will market the devices along with flavour pods that produce a carbonation-inducing chemical reaction when injected with water. Keurig Cold will complement Keurig's home coffee brewer, which also uses pods.
"It should be a faster development in terms of household penetration than what it took hot brewers to get to currently," Kent said during a call with reporters.
Soda sales in the US have declined for 10 straight years, hurt by concerns about excess sugar and artificial sweeteners. Technology like Keurig Cold is among the strategies Atlanta-based Coca-Cola will use to keep people sipping while also attracting new drinkers, Kent said. Keurig coffee brewers are in 20 million U.S. households, according to the company.
"It's all about the choice," Kent said. "This allows a practicality for consumers to take more choices to their homes, whether it's mixers or whether it's sparkling drinks or whether it's still drinks."
In May, Keurig will discuss its plans for home and retail testing, as well as for full U.S. distribution through the end of the year, Kent also said.
Kent said he likes what he has seen so far of the machines and pods, including price, materials and design. Kent also said he's pleased with the "beverage quality," the most important factor for a company obsessed with keeping its drinks consistent from Atlanta to Myanmar.
Bloomberg News, edited by ESM