Drinks Ireland Calls On UK Political Parties To Show Greater Support For NI's Drinks Industry By Reducing Excise Burden
Published on Dec 5 2019 10:43 AM in Drinks tagged: Trending Posts / Drinks Ireland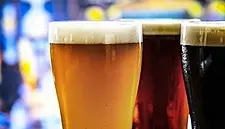 Ahead of the December 12 UK general election, the representative body for drinks producers, distributors and brand-owners on the island of Ireland, Drinks Ireland, has called on UK political parties to show greater support for Northern Ireland's drinks industry by reducing the burden of excise on alcohol sales if elected.
According to Drinks Ireland, the Northern Irish drinks industry is a major exporter. The organisation stated that more than six million cases of Irish whiskey, Irish cream liqueur and gin were produced in Northern Ireland in 2018, and over 80% of these products were exported to markets other than the UK and Ireland.
Drinks Ireland added that the Northern Irish drinks industry is both a major contributor to the Northern Irish economy and a driver of tourism, with attractions such as the Bushmills, Echlinville, Rademon Estate and Boatyard distilleries bringing in thousands of visitors every year.
However, the organisation said that the nearly one million cases of NI-produced spirits that were sold in the UK market in 2018 faced a high level of taxation as a result of the UK having the fourth highest aggregate rate of excise on alcohol products in the EU.
Drinks Ireland has called on UK parties to support reform of the UK alcohol excise system with a view to reducing the burden of excise on alcohol sales in the UK in order to sustain consumer confidence and spending patterns, support the Northern Ireland drinks industry, and ensure increasing revenue to the exchequer.
"Hugely Important"
Drinks Ireland director Patricia Callan commented, "The domestic market is hugely important for Northern Irish spirits producers, particularly for small producers, like gin distilleries. As such, the maintenance of a supportive domestic consumer market in the UK is a key determinant in ensuring the ongoing success of the Northern Irish spirits industry, which has a hugely positive impact on the Northern Irish economy.
"We saw that recent duty freezes in 2017 and 2018 have actually delivered higher revenues to the exchequer.
"We would call on the next government to reform the excise system with a view of supporting small Northern Irish distilleries."
In The Context Of Brexit
In the context of Brexit, Drinks Ireland has also called on the next UK government to seek to avoid a hard, no-deal exit at both the current stage and, if it arises, following a transition period in the case that a new trade agreement is not concluded. The organisation said that frictionless trade and market access, including within the UK, between NI and Great Britain, within the island of Ireland, and between NI and the rest of the EU, is vital. Drinks Ireland is seeking zero tariffs on all goods traded between the EU and the UK.
© 2019 Hospitality Ireland – your source for the latest industry news. Article by Dave Simpson. Click subscribe to sign up for the Hospitality Ireland print edition.