EU Strikes Blow to Minimum Pricing Proposals
Published on Sep 3 2015 2:20 PM in Drinks tagged: Featured Post / Alcohol / minimum pricing / Leo Varadkar / ECJ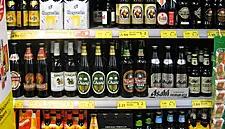 The European Court of Justice (ECJ) has ruled that Scotland's plan to introduce minimum pricing on alcohol would infringe on trade laws, which could have serious impact on similar plans in Ireland.
The ECJ ruled that fixing a legal price on alcohol could only be justified if no other method - such as tax increases - could be found to help reduce alcohol abuse.
The ruling, made by the ECJ's advocate general Yves Bot, means the court will likely uphold appeals from the Scotch Whisky Association and other bodies that appealed on the basis of the free movement of goods.
The ruling could be a watershed moment in the scheme across Europe, including Ireland, where health minister Leo Varadkar introduced the Public Health (Alcohol) Bill 2015 earlier this year, to be passed by the Dáil.
The bill proposes that a unit of alcohol can be sold for no less than 90 cents to €1.10, making a bottle of wine a minimum of €10 in an off-licence or supermarket, if the upper rate is applied.