Irish Brewers Association Welcomes Agreement To Support Tourism In Craft Distilleries
Published on Jul 28 2017 10:35 AM in Drinks tagged: Alan Kelly / Irish Brewing Association / Intoxicating Liquor (Breweries and Distilleries) Bill / Jonathan McDade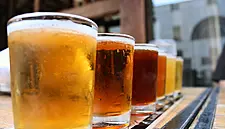 The Irish Brewing Association has welcomed cabinet support for the introduction of a new law which will allow craft brewers and distillers to sell their produce onsite to visitors.
The Intoxicating Liquor (Breweries and Distilleries) Bill originally introduced by Alan Kelly TD in November 2016 has already received cross party political support. 
 
Speaking about the decision, head of the Irish Brewers Association Jonathan McDade, said: "We welcome the Government's recognition of the growing contribution of the craft brewing sector to the Irish economy. With over 90 micro-breweries estimated to be in operation in Ireland, this sector is one of the success stories of the economic recovery and the potential for Ireland to capitalise on this for tourism growth is huge. 
 
"This bill will put Irish brewing tourism on a level playing field with our European competitors and will allow visitors to sample a premium product where it has been made, further enhancing our tourism offering. We look forward to working with elected representatives to ensure this bill is passed as soon as possible."