Walsh Whiskey Distillery Signs €4 Million Canadian Sale Contract
Published on Feb 28 2018 11:19 AM in Drinks tagged: Trending Posts / Canada / Woodman Wines & Spirits / Walsh Whiskey Distillers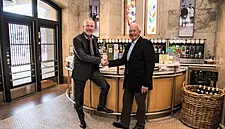 Walsh Whiskey Distillery has agreed to a €4 million contract with Woodman Wines & Spirits for the sale of its full portfolio in Ontario, Canada.
The Carlow-based distillery signed the four-year deal as part of the Department of Agriculture's trade mission to Canada and the US in association with Bord Bia.
The deal will see Walsh Whiskey sold under the Writers' Tears and The Irishman brands in Canada. The new contract continues the relationship between Walsh Whiskey and Woodman which started in 2013.
Bernard Walsh, founder and managing director of Walsh Whiskey, said, "Having watched Writers' Tears - Copper Pot achieve great success under Woodman's guidance, we now have great confidence in what Woodman Wines & Spirits can do with our entire portfolio."
The company was founded by husband and wife Bernard and Rosemary Walsh and has risen to win a number of awards with its brands, which includes Writerṣ' Tears and The Irishman whiskeys, the Hot Irishman Irish coffee and The Irishman - Irish Cream liqueur.
Canadian Market
Canada is a top 10 market for Irish whiskey, growing by about 20.5% in the first 10 months of 2017 and worth around €20 million, according to the Irish Whiskey Association (IWA).
The Ontarian economy is valued at €495 billion and is Canada's most populous province, with 14 million people, which accounts for about 40% of the country's population.
"As the success of Writers' Tears has shown, there's tremendous interest in authentic, Irish whiskey here in Ontario," said Jason Woodman, Vice President, of Woodman Wines & Spirits.
"With the introduction of The Irishman range of whiskies, to complement the Writers' Tears range, we're going to further grow the category, and work hard to bring it to the attention of enthusiastic consumers," Woodman continued. "We are privileged to represent some of the top brands in the world and count Walsh Whiskey Distillery among our key suppliers."
Partnership Trust
Minister for Agriculture, Michael Creed, said the deal came from a partnership "based on an excellent product and an excellent service, cemented by trust that they have built since their first commercial steps together a few years ago."
Irish spirits and liqueur producers are taking part in the mission this week with the aim to increase the Ireland-Canada trade, according to the Irish Spirits Association (ISA). Irish whiskey and Irish cream liqueur are now protected at an EU level, similarly to Champagne in France or Parma hams in Italy.
The mission follows the recent Comprehensive Economic and Trade Agreement (CETA) between the EU and Canada, which has eliminated tariffs for both cream liqueur and gin and has removed several trade restrictions.
© 2018 - Checkout Magazine by Kevin Duggan