Catering For The Masses
Published on Jul 31 2015 12:38 PM in Features tagged: Festival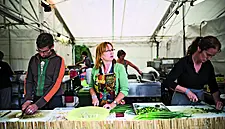 The summer festival season has arrived which means thousands flocking into empty fields for some carefree chaos. Food plays a vital role in the success or failure of any festival. ANDREW JENNINGS take...
The summer festival season has arrived which means thousands flocking into empty fields for some carefree chaos. Food plays a vital role in the success or failure of any festival. ANDREW JENNINGS takes a look at how the festival throngs are catered for.
Before Electric Picnic, Body & Soul or even the now defunct Oxegen, there was Feile.
The annual 'Trip to Tipp' is about as 1990s as the cant about the Eurovision being a blight on the nation's coffers, Superquinn instead of Supervalue or thinking korma from a jar was the height of multiculturalism.
People that made the pilgrimage to Feile will preach about the time being halcyon days for festivals in Ireland, when the beer was colder, the music better and golden daylight stretched well after midnight.
The truth probably lies elsewhere on that one, yet folk of a certain vintage will be fondly familiar with Feile, commonly regarded as the forbearer to the slick festival juggernauts of today.
Those who have become accustomed to tight security, onsite showers, organic cider and glamping at today's open air offerings may well have been appalled by Feile's basic, no-frills set up.
One offering that has changed beyond all recognition (for the better) at Ireland's music festivals since Feile is arguably one of the most important for punters and onsite staff alike: food.
Where once it was a small plastic container of half frozen chips with maybe a cocktail sausage thrown in, food at festivals has evolved vastly with the changing tastes of Ireland's palate.
There was a time when catering at festivals was akin to a line of Bimbo's Burgers-style vans pitched up offering the same basic greasy staples. Although fish, chips and burgers are still very much on the menu - and still hugely popular - catering at major outdoor events has moved forward in the past decade or two, with stalls and vans now selling all manner of ethnic foods from every corner of the globe. The reason? Festival-goers now demand it.
BEHIND THE SCENES
The public face of hospitality at any outdoor festival is the dozens of vans, stalls and kiosks that draw in hungry punters willing to spend a pretty penny to keep their belly full.
However, behind the scenes another important hospitality assignment takes place, one that begins several days, if not weeks, before the gates open to the public. It's catering for festival staff and performing artists.
The working crew at any festival can be away from home for weeks or even months at a time, living in often in wet and cold fields, whilst working 16 hour days setting up a festival with a team of other crew.
The work can be very physically demanding and the three things you need to be able to rely are breakfast, lunch and dinner. Many festival organisers have experienced the wrath of a burly scaffolder or electrician who are not getting enough hearty food to eat.
Caroline Cassidy, manager at outdoor catering company Savage Food, a division of Fitzers Catering, knows this only too well, but is experienced enough to know what it takes to pull off a perfect catering job at an Irish festival.
"What we do on-site is generally good, home-cooked style food for the crew," says Cassidy.
"Things like a traditional roast, salmon, breaded chicken and chips, veggies, spaghetti Bolognese. We serve breakfast, lunch and dinner every day for the crew. We're on-site pretty early for the set-up, catering for the riggers. The crew work long hours and it is tough work, so they want the home-cooked meals.
Cassidy says that by the time the festival officially kicks-off Savage Food could be catering for anything up to 600 people.
The company looks after crew and artist catering some of the summer's biggest gigs, including Electric Picnic, Longitude and the recent Slane concert.
She admits that the margins for any festival catering job are extremely tight, adding that company decided to call time on the public side of its catering offering at festivals "because there just wasn't enough money to be made".
"The positive aspect to working on the crew side of things is that you're guaranteed the numbers. It's hard to make a huge profits from any side of catering at these events, but we're good at what we do and the organisers know us well and what we're about," she says.
Cassidy adds that orchestrating a huge event such as Electric Picnic is a demanding operation but one her team thoroughly enjoys.
"We'll have dedicated chefs working around the clock on two different shifts. In relation to the artists, we send out our menu, and although some will bring their own catering, the majority seem happy with what we have on offer.
"For event like Electric Picnic, it's not as stressful as you might think, the hardest part is the setup. We're usually in well in advance of the artists and public. It'll be very busy but our people always have lots of fun and a great time," she adds.
ON THE FRONT LINE
Steve Corbet, who runs Event Food, a dedicated outside catering company, trades on the other side of the festival fence - out where the large crowds need to be fed.
Corbet, whose specialist equipment includes mobile coffee units, fast food units and German "swinging grill" barbeques, is a festival veteran, laying claim to being the only food trader that has been present at every Electric Picnic since it began.
"We'll be at pretty much every outdoor event we can get to, so wherever there's large crowds to be fed, we'll be in there," he says.
He reveals that it's getting tougher to secure concessions to trade on-site at some of the larger Irish festivals as competition for pitches becomes more intense.
Corbet says that when he started he had pasta concession using specially sourced pastas and sauces, however, it wasn't turning over enough profit for him to continue on with.
"I just found that it worked well at big events, where you have enough people with different tastes, but there wasn't enough big events in Ireland to make it work," he says.
"I meet a lot of UK traders who come over for the likes of Electric Picnic. One guy I know was telling me that at Glastonbury for every 100 trays of lasagna he orders, he'll order only 10 meat. I told him that for every 100 trays of lasagna I used to order for a festival here, only 10 would be veggie.
"So that will give you an indication of the totally different mindsets and taste between the UK and Ireland.
Corbet believes that "it's incredibly hard to make a profit" if you're trying to do really good food here.
He made the decision to revert to old school Irish festival fare, saying he hasn't looked back.
"I decided to go into what you might call the more ''greasy' end of it: chips, burgers, I've also got a German BBQ which is popular.
"It's mostly meat basically, Irish people can't get enough of meat. Cheese is the other one, we're obsessed with cheese."
The spirit of Feile lives on.