Eight Coming London Restaurants So Promising You Need to Book Now
Published on Oct 21 2015 11:56 AM in Restaurant tagged: London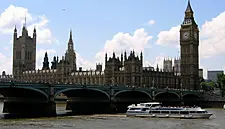 Restaurants are like buses. OK, they don't move, you don't need an Oyster card, they are not filled with people whose headphones leak audio swill, you are not routinely required to stand and their ma...
Restaurants are like buses.
OK, they don't move, you don't need an Oyster card, they are not filled with people whose headphones leak audio swill, you are not routinely required to stand and their main purpose isn't transportation.
Apart from that, it is a really useful analogy.
You wait around for one to arrive and then a fleet shows up. Several (restaurants, not buses) are on their way in coming weeks and now is a good time to try for a table. Many serve reduced-price food for a few days before the official date, which may change at the last minute, so it's worth asking if there's a soft opening.
45 Jermyn Street
Fortnum & Mason promises that this new brasserie is going to bring back some old-fashioned glamor. It replaces the Fountain, which occupied the ground-floor space at the back of the posh store for more than 60 years. It will be open from 7 a.m. until late, serving everything from breakfasts to after- theater suppers. It will feature burnt-orange leather banquettes in the center, with booths set against the front and back walls, plus a marble-fronted bar.
Opens: Oct. 26
Les 110 de Taillevent
Restaurant imports from France often get a rough ride in London, where Le Chabanais (for example) lasted only a matter of weeks. This outpost of a Parisian brasserie looks set to do better. The main selling point is that 110 wines will be served by the glass in a city where diners tend to be thirsty. Les 110 de Taillevent will be open all day, starting with breakfast. The interiors of this high-ceilinged establishment in a former bank on Cavendish Square are beautiful.
Opens: Oct. 21
Dishoom Carnaby
This is the latest outpost of a mini-chain that references the Irani cafes of old Bombay. It's right next to Carnaby Street. While Dishoom is expanding, the quality of design, food and service is unchanged. Just be prepared to queue, even though this is a large site at more than 7,000 square feet. Dishoom is wildly popular and doesn't take reservations for dinner, unless you are in a group of six or more. The prices are low and the energy level is high.
Opened: Oct. 15
German Gymnasium
This new European restaurant occupies an historic building next to King's Cross Station. It was constructed in 1865 for the German Gymnastics Society and hosted indoor events for the 1866 Olympic Games. The dramatic and cavernous space will house a restaurant, a brasserie and a bar. It's the latest project of D&D London, whose restaurant empire includes Coq d'Argent, Le Pont de la Tour and Quaglino's.
Opens: Nov. 12
Hoppers
This informal and exciting new café in Soho will serve snacks from south India, particularly hoppers (a bowl-shaped pancake made with fermented rice batter and coconut milk) and dosas (crepes made from fermented batter of ground rice and lentil). The prices are restrained while the flavors let rip. This is the latest opening from the owners of Gymkhana. Their previous Asian street-food restaurant, Bao, is usually rammed, with a queue.
Opens: Oct. 28
Park Chinois
This is the monster new establishment of Alan Yau, the restaurateur who created Hakkasan and Wagamama. It occupies a site in Mayfair that at one time was fronted by Automat, behind which was a club that was underground in every sense.  Yau describes it as a lifestyle and entertainment venue, rather than as a plain old restaurant. There will be a house band (Eight Clouds of Joy) and a string quartet. Park Chinois, serving a Chinese menu, will be open all day, including for afternoon tea. If you will forgive me a little hyperbole, it sounds amazing.
Opens: November
Sexy Fish
This Asian fish and seafood restaurant on Berkeley Square looks a million dollars, and that's only a fraction of what it cost to create. The beautiful and lavish décor is just the start of what promises to be a dramatic place to eat and drink. This has as much buzz as anywhere that is about to open, and dinners are already booked out weeks ahead. It is the latest project of Caprice Holdings, whose establishments include the Ivy and the Caprice.
Opens: Oct. 19
Tokimeitē 
Yoshihiro Murata is one of the most respected chefs in Japan, where he holds a total of seven Michelin stars. He is the third-generation chef-owner of Kikunoi, in Kyoto.  At Tokimeite, in Mayfair, he plans to serve modern cuisine informed by hundreds of years of tradition. He's backed here by the Zen-Noh Group, the business arm of Japan's largest agricultural cooperative, which means he should be able to serve beautiful Japanese wagyu beef .
Opens: Nov. 2
Article by Richard Vines, Chief Food Writer for Bloomberg