New London Restaurants With Great Affordable Food
Published on Oct 30 2015 11:01 AM in Restaurant tagged: London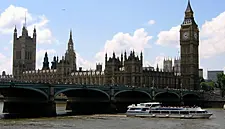 So many restaurants open in London, it's difficult to keep track and impossible to write about them all. Here's a roundup of some of the best places Bloomberg's chief food writer Richard Vines has eat...
So many restaurants open in London, it's difficult to keep track and impossible to write about them all. Here's a roundup of some of the best places Bloomberg's chief food writer Richard Vines has eaten in recent months, with the focus on great food that is generally affordable.
Barrafina
This London tapas bar has a new, third outlet, in Covent Garden, and it keeps getting better. Chef Nieves Barragan Mohacho is outstanding and it's a pleasure to sit at the counter and watch her at work with her team, pushing out great dish after dish. The prices are reasonable: Pimentos de padron are 5 pounds ($7.70), classic tortilla is 6 pounds and stuffed courgette flower is 7.80 pounds.
Barrafina won U.K. restaurant of the year a few months ago and it is no surprise. The ingredients are delicious, from a simple slice of ham through to beautiful vegetables and fish. This isn't cheap eats but it does represent value. The wine list is pretty good, too.
10 Adelaide Street, Covent Garden, WC2 4HZ
Blacklock
This basement restaurant in Soho serves chops cooked over charcoal. That's it really. The choice is between skinny chops (beef, lamb, pork) at 4 pounds or big chops, with different cuts daily. Oh, and nibbles of cheese and pickle, dripping ham or eggs and anchovy with crispbread, at 3 pounds.
If that is too much choice for you, you can pay 20 pounds and have the snacks and all the skinny chops. The flavors are deep. Some bread on my plate was soaked in such rich juices, I mistook it for a steak. Did I mention that cocktails cost 5 pounds?
24 Great Windmill Street, Soho, W1D 7LG
Murano
Angela Hartnett demonstrates that her trattoria is ready to roll out with the second branch of Café Murano, which has opened in Covent Garden. It's a charming place, with a clubby feel on the ground floor and a room filled with natural light upstairs.
The food is what you would expect from this popular chef. It's accessible and unfussy, with quality ingredients . The starters and pasta dishes are particularly strong. Café Murano is a huge step up from the chains that dominate in Covent Garden.
36 Tavistock Street, Covent Garden, WC2E 7PB
Corvino
This large (140 seats) and impressive Italian restaurant is squeezed into a site near Spitalfields market. There's an open kitchen and a few nods in the direction of modernity, with a menu that features a selection of raw fish options and modestly sized pasta dishes such as duck tortelli with borlotti beans & sausage (12 pounds).
But at the heart of all this is a focus on flavor that makes Canto Corvino one of my favorite Italian establishments. The bread, the salumi, the burrata, the olive oil and the balsamic vinegar are all top notch, before you even try anything cooked. This is more expensive than other places on the list. It's worth it.
1 Artillery Lane, Spitalfields, London, E1 7HA
Paradise Garage
A short strip of restaurants beneath railway arches in Bethnal Green, in East London, is becoming a dining destination. Paradise Garage is the new outpost of chef Robin Gill, who has already made a name for himself at the Dairy and the Manor, in Clapham. His dishes are focussed and unfussy, with clean flavors.
Gill uses a few seasonal ingredients to create British dishes such as a starter of Cornish crab, kohlrabi, apple and grilled lemon (7.50 pounds) and Tilley's farm egg, Roscoff onions, spinach and lardo. Sourdough is served with smoked whisky butter.
254 Paradise Row, Bethnal Green, E2 9LE
Oldroyd
Islington is home to this restaurant, which occupies a site on a street better known for drinking options than good food. Tom Oldoyd was executive chef at the Polpo group before opening Oldroyd, serving small seasonal dishes in an informal setting.
The place is tiny so you need to squeeze in to try options such as chicken liver parfait and poached provençal figs (5 pounds) and iron bark pumpkin, kohlrabi, wet walnut and cow curd salad (9 pounds). The service is friendly and the prices low.
News by Bloomberg, edited by Hospitality Ireland