Still Singing Galway Bay
Published on Jun 8 2015 4:47 PM in Features tagged: craft beer / Galway Bay Brewery / Jason O'Connell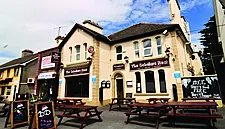 Emily Hourican talks to Jason O'Connell, MD of Galway Bay Brewery, which operates ten bars in Dublin and Galway, about expansion, plans for the future, and competition from Wetherspoon's. The day...
Emily Hourican talks to Jason O'Connell, MD of Galway Bay Brewery, which operates ten bars in Dublin and Galway, about expansion, plans for the future, and competition from Wetherspoon's.
---
The day that I speak to Jason O'Connell, managing director of Galway Bay Brewery, he tells me that the group has just added two new properties to its portfolio, bringing the total to ten bars in Dublin and Galway. So, will it continue to expand at the same rate?
"We're not 100 per cent on that just now. There's a bit of competition coming in from the UK at the moment, so that's slowing down our expansion plans, so we'll see how that pans out," he says candidly. He is, of course, talking about Wetherspoon's.
"They're hitting us hard in Blackrock, and we can't compete on price. The initial effect wore off after a bit, but then they decreased prices again, and that hit us again. It's such a pity that alcohol in Ireland, almost without exception, is just about how cheap it is," he says. And indeed, this has long been the attitude for many people. So does he see that beginning to change in any way?
"In the vast majority of cases, no. And the problem is that alcohol then becomes a dirty word. It's sad when it's all about price. Yes, it should be about price to some degree – you can't say that isn't so – but it shouldn't be the be-all and end-all. But, that said, there are opportunities to reinvent ourselves in a different way in Blackrock. We've decided to go high-end, put music in at the weekend, try and compete in that way, rather than on price, where we can't."
But Jason and his partner in Galway Bay Brewery, Niall Walsh, are not taking anything lying down. In recent months, they have started a distribution company, "with a view to bringing into Ireland the best beer in the world. We currently have two breweries in the UK signed up – Siren, in Redding, and Brew Dog, in Scotland – also Edge, in Barcelona, and another Spanish brewery, as well as one in Sweden. We're hoping to get ten to 15 breweries signed up in total, and that will be distributed to off-licences and restaurants, not just our bars. We'll continue to give customer choice on main brands, if necessary, and we'll always include a few Irish breweries on tap as well, but this is just another part of the business we've decided to go into. For the bars, it's exciting because it opens doors and puts us into the beer world outside Ireland. It gets you out there, stops you being just reactive.
"I suppose the Galway Bay thing has grown from a couple of bars and a brewery that supplied two taps, to being three businesses, really – the bars, the distribution company, and the brewery that we're looking to export. It's a question of having the money to be able to export – and margins are so tight, there's really nothing in manufacturing beer. I think we make €2 a case, but it's a volume game. Once you get it over the volume, then it starts to make sense. The price difference is very little when you're buying 10,000, as opposed to 1,000. You go over that tipping point and you start to make money, and we've gone over that point. We've doubled our margin, which allows us to put our money back in the business."
Expansion
"We were looking at expanding more in Ireland, but we'd be nervous to go out there right now, given the way things have gone since Wetherspoon's entered the market. Maybe in three or four years. We're all big enough to handle competition. After all, when we open, maybe we're affecting someone. So now the shoe is on the other foot. I'm just shocked at how people don't understand what this is. They shouldn't, I believe, welcome it as much as they do.
"We opened our first bar, in Galway, in 2006. There has long been an association with Irish publicans being rip-off merchants. I don't know how true that is, but we certainly tried to play against it. We sold wines by the glass, Porterhouse beer ... we did something different, and it worked. We did it because that was the kind of bar we thought would benefit the community, add something to what was already there. I spent a bit of time in Bristol, and I remember when Tesco opened there, there was a protest because that had been the longest high street in Britain without a chain store on it. So, in protest, local traders were handing out free breads, free jams, petitioning the community, but, of course, it's very hard to change the course of a juggernaut. You can see that with Tesco, Starbucks, any of these places, but personally, I hate going to them. I will always go somewhere local, even if I have to pay a bit more. When we opened our first business in Galway, we went to the butcher around the corner rather than a big wholesaler, and I remember liking that.
"I don't think I am alone in this. I think Wetherspoon's is new, and people haven't figured out what they are yet. It's a pity, because the Irish pub is an integral part of the community, and very fragile now. Nobody wants people drink-driving, or smoking inside – I would never have started a bar if people could still smoke in it – but pubs are an Irish thing, and at their best, they are part of a local community, even when in the middle of a city."
And so Jason believes that 'the Wetherspoon's effect' will die down once customers become accustomed to the offer, and the prices, and they will once more seek out smaller, more local enterprises.
Does he worry about a certain craft-beer fatigue creeping in? "Yes, but that said, I think the exciting time is yet to come." And indeed, shortly after we speak, Jason and his partners open The Beer Market, near Dublin's Christchurch, where taps are simply numbered rather than named, and rotated constantly. It is a complete break with the kind of competitive craft-beer thing that has been creeping into the market.
"For us, now," Jason says, "it's no longer about being the first to have something new. It's about putting money back into the bars, doing up toilets, the kitchens, the interiors, so they look well and we can weather a storm. We offer what people want, and we change with the times, as the times change as well, so we're quite happy with the performance of them overall.
"The new distribution company allows our brewer and our brewery to meet other breweries around the world. We can do collaborations if we so choose, and, for us, export is the next phase. We have capacity now to export because we have moved into new premises. Before, we didn't have that capacity. We're also looking at England as a possibility for opening bars. We want to, but haven't yet got the idea of exactly what we want to do. It will be London, probably – somewhere relatively risk-free – but we have to work out: what can we bring that will be unique?
"When we opened Against The Grain, we took in just €500 the first night, but we've built ourselves up gradually, with no bank loans. We put everything back into the business, and we've nearly gone under twice, just by opening a bar that was quiet at first and could have taken the whole thing down." When I say that this sounds very brave to me, Jason's response is to laugh. "Brave, or stupid?"
In general, he is very upbeat about the next few stages of the company. "There's lots that we're very excited about. We're looking at a couple of new sites – there's a site in Grand Canal Dock that might suit– and we'd like to go to Belfast and put it up to Wetherspoon's, but it's hard to get an independent pub up there. But it's not about how many bars we own, it's about doing it right. We've a lot of positive stuff happening. The new distribution company is very exciting, and a lot more of what we do now is specific to site and location. We change and adapt quickly when we open. For example, if it's not busy enough, if the food isn't working, certain beers aren't working, or certain glass sizes, we respond to that. We tend now to go in and be very broad. In the Scholar's Rest, for example, we went in and took all the taps out and left just Guinness and Heineken, and now we're putting them back in, trying to work with the locals and the regulars. We had got a bit ballsy about 'this is the way it has to be'. That doesn't always work, so now we change things more slowly, over time, working with customers."
Even food, Jason says, isn't set in stone. "We do it in most of our pubs, but not in all of them. We're not doing food in the Salthouse in Galway because you couldn't physically fit a kitchen in there. In the Oslo in Galway, which is doing very well, it used to be a 50-50 split between beer and food, but now it's probably 70 per cent beer, 30 per cent food. We've also tried a more specialised food concept, but we have found that doesn't really work. People just want what you get in a pub, done as well as you can do it."
Jason and Niall are also looking at standalone branded food ranges – "mustards, relishes, that kind of thing, made with beer. We'd like to do it in partnership with someone who's doing it well because we did try making them in house, but they were fermenting in the bottles and exploded when opened! But we want to do it with a bit of heart and soul, and we haven't yet met the person we want to do it with. It'll come in time. The bigger you become, the more there is at risk, so you think about your decisions."
Life Lessons
Everything Jason knows about the business, he has tried, tested and experienced over the years. "We opened Against The Grain in October 2010," he recalls now, "it was a nightmare – just two weeks before the bailout of the country. People did not get what we were doing. The location where we opened was nicknamed 'the corner of death' because so many places had opened and closed there. Then a rep from a reputable beer company came in and said, 'Cash only, because you're on the wrong side of the street.'" And yet, they made it work.
Even before that, Jason was honing his ability to respond, react and keep thinking creatively. Born in England, he grew up in Galway from the age of nine. He spent summers working in Salthill and going out in Salthill, and rather than go to university, started his first businesses – a clothes shop and a fast-food place – when he was 20. "I didn't know how to run a business at all, but I had the idea and gave it a go." However, when the leases ran out, he realised that there was more to learn. "I knew I still wanted to run my own business, but that I had a lot to learn, so I did a start- your-own-business course with FÁS. Then I worked with Brubeck's in Ballsbridge, where I learned that just because you do something different doesn't mean it will work. The guys there had taken an idea from London, tried it here, and it just didn't work. They didn't serve ice cream or chips, and that's what people wanted. I was 24 or 25 at the time, and just a waiter, but I learned: you've got to give people what they want. Give them enough of what they want that they will be encouraged to try something new.
"After that, I worked in the Temple Bar Hotel as restaurant manager, then with the Hilton in Bristol, as foodservice manager. Then I worked for Hilton in Tewksbury, as food and beverage manager, then back to Ireland, where I worked with Jurys Doyle, first in the Burlington, then as deputy GM in the Westbury and the Berkeley Court. After that, I was offered a transfer to run a Jurys Inn in England, and I didn't really want to go back, but as with any promotion, you feel that if you don't take it, there will be this invisible line put through your name! So I thought, 'OK, I have to do this, start my own business. It's now or never!'
"Niall was already a friend, and he and I had talked about ideas, things we could do together. He has a cheffing background, so we discussed a chain of sandwich bars, herbal teas, lots of different ideas. I'd seen a place in England doing gourmet pizzas, and we decided that could work, if we could deliver. Friends of ours owned a pub in Galway, Massimo's bar, and they wanted to do pub food, so, basically, we agreed to do their food and we could run our pizza business out the back door.
We called it Pizza Eile, and we were offering things like aromatic duck with a spring-onion sauce, tandoori-chicken pizza. People got it, but not enough people. We found out all over again that most people just want ham and pineapple, and to know, 'What deals do you have?' 'Why don't you do chips?' In the end, we had to do wedges. We couldn't keep saying no."
Yet each new challenge was chalked up to experience, and gradually, the model began to refine down to something highly efficient.
"We don't want to sit back and rest dwith what we have," Jason says. "We have an accountant now, great people working in all the bars, an operations manager – we have a team in place. It's exciting times. Westport, Sligo and Limerick are all on the radar. We will probably look at a few more bars in Dublin, and in England, where we will do something fun and new and different. The distribution company is our gateway to what's happening in other countries. Our core range will be very different in five years' time. The future of craft breweries is to diversify. There are too many red ales now, too many IPAs. There is growing fatigue with American-style, highly hopped craft beers. We want to work with breweries who are like chefs, who are really thinking about what they're doing, and co-brand beers with them. We are doing things with Teeling Whiskey, using their old whiskey casks to brew beer. It's not about making money and just doing the same things all the time. Like that, we'd get bored!"
And finally, a warning for the growing army of craft-beer fans: "We want to ban that word, craft. It's meaningless at a certain stage. It needs to stop being this get- out-of-jail-free card. The margins are the same as with other beers – they're still crap. Just because you have craft beer doesn't mean it's going to solve all your problems. You still have to sell it!"