The Best Pizza in London, Tested by a Choosy Italian Chef
Published on Jul 27 2015 12:28 PM in Food tagged: Pizza / London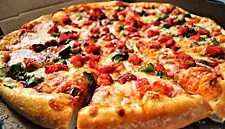 For someone who describes pizza as happy food, chef Francesco Mazzei takes it very seriously, writes Richard Vines, chief food critic for Bloomberg. We're going to try three of London's most fashio...
For someone who describes pizza as happy
food
, chef Francesco Mazzei takes it very seriously, writes Richard Vines, chief
food
critic for Bloomberg.
We're going to try three of London's most fashionable pizzerias, and he's laying down rules with the confidence of Simon Cowell dispatching a weak singer or Nicki Minaj a rival on Twitter.
"I'm looking for an authentic pizza," says Mazzei, a native of Calabria, who wowed diners at L'Anima in the City of London and is now taking over Sartoria in Mayfair. "The crust has to be Napoletana for me. Pizza Romana is not real pizza."
"I cannot tell you where my daughter wants to go for pizza because it's Pizza Express. She loves the thin crispy base, which is the Romana. People sometimes save money on the cheese, which is a big mistake. It has to be mozzarella."
It's the second time that he and I have toured London in search of the perfect pizza. Last time around, in 2008, Franco Manca triumphed in a not particularly strong field. This time around, I've suggested we start at NY Fold,  the first overseas restaurant of Bruno DiFabio, a six-time World Pizza Champion.
Big mistake.
"We should stop mixing New York pizza, Bombay pizza, or stuff like that," Mazzei says. "Pizza is Italian. Let's not forget that. This is the first time I've had New York pizza in London."
DiFabio is on hand to greet us and explains that his bases are light and airy because of his two-part fermentation process. He's right. The pizza is a world away from some of the greasy slices served in New York.
Mazzei agrees the crust is very good and comments on the quality of the ingredients, particularly the mozzarella. Then things go downhill a little. The cheese is evenly spread across the margherita. Mazzei misses fresh tomatoes and herbs.
"It's a good pizza, but not authentic Italian," he says. "I might get a slice and a beer if I were out at night. I'd 10 times rather have this than a kebab." Sorry Bruno: He marks down your New York pizza for being too New York. 5/10
Next we head to Pizza Pilgrims, which belongs to friends who toured Italy to learn the secret of a perfect pizza. They also visited Franco Manca, the small Brixton restaurant that was ahead of the pack years ago with its great pizzas.
We settle down at an outside table, start drinking a couple of large beers (to follow the ones at NY Fold), and try to ignore the two people who are filming with us for Bloomberg and folks who glance at us as they try to squeeze by onto Dean Street.
Mazzei breaks into a smile as pizza is served.
"It looks authentic," he says. "It's fantastic. It's Napoletana style, and it is light. Now. I am happy. Look at the tomato, look at the mozzarella, look at the basil on top. Oh my god, this is really good. The crust is bubbly and crunchy. The flavor is a happy flavor. It feels like I am in Italy now. This pizza makes my day shiny despite the bad weather. Pizza is a happy food, and when you eat pizza like this with a nice beer, it's Italy. I feel like I am back home now." 8/10.
Our final stop is Homeslice. This Covent Garden pizzeria is owned by Mark Wogan, the son of broadcaster Sir Terry, hero of many a Eurovision Song Contest, but I'm not sure if I am supposed to tell you that.
"It's really good, Mazzei says. "I didn't think it would be possible to have pizza this good in London. The quality has improved a lot in the past eight years. If England carries on the way they do now, I'm sure they'll get as good as Italy in about five, 10 years.
"The standards are very good, and I find this quite refreshing. Less is more, especially for Italian cooking. Great tomato, a great mozzarella, fantastic basil, the best extra virgin olive oil, and you've got a great pizza. That's what Italian cooking is all about, and these guys are starting to know that now." 8/10
There are many fine pizza restaurants in London. Here are some others to try.
Franco Manca 
This is the daddy. Franco Manca was making world-class pizzas in a tiny store in Brixton long before fashion caught up with pizza. I blush when I remember that I thought a microwave must be involved for anywhere with a cooking time of 40 seconds. Franco Manca has since developed into a chain. We tried to test the latest branch in Broadgate Circle, in the City, but the staffers were alarmed when we showed up unannounced with cameras. (I don't blame them.)
Princi 
Rocco Princi is an artisan baker with style, and this Soho venue is usually packed. It's not a pizzeria, but there are fine pizzas from a wood-fired oven. The coffee and cakes are pretty good, too. You could really feel you are in Milan. (Which, on the whole, is a good thing.)
Hot Italian 
Mazzei's brother Valerio has opened a restaurant next to the Tate Modern, in Southwark. I went along with Mazzei, and the pizzas were better than most. But I couldn't think of any way of including them that didn't sound nepotistic. So, at all costs, avoid this joint at 20 Sumner Street, SE1 9JZ. (But if you do go, please mention my name, and I shall hope for commission.)
Santore
This Italian restaurant in Clerkenwell is a destination for some pizza lovers. The margherita is authentic and delicious, with a particularly good crust and quality ingredients. To me, it fell just short of Pizza Pilgrims and Homeslice, my favorites.
Pizza East 
I go to this Shoreditch offshoot of Soho House more for the buzz than the pizzas. They are baked in a wood-fired oven in an old tea warehouse with high ceilings and industrial chic. The staff and customers are probably hotter than the pizzas, but who cares? (Well, Mazzei does, but I didn't bring him here.)
 Richard Vines, chief food critic for Bloomberg