Around the World in 27 Burgers: The Best From Brooklyn to Bali
Published on Jan 6 2017 3:40 PM in Food tagged: burger / Shake Shack / Meatliquor / Daniel Humm / The Spotted Pig / In-N-Out Burger / Daniel Boulud / Galvin at Windows / St. John / Fergus Henderson / Wolfgang Puck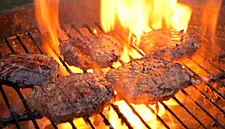 There's nothing like the satisfaction of a great burger—and nothing quite like the disappointment of a bad one. When you're on the road, there's little room for error, so we asked three burger-meisters for tips on where to go.
Randy Garutti is the New York-based chief executive officer of Shake Shack; Scott Collins founded Meatliquor restaurants in London with chef Yianni Papoutsis; Uwe Opocensky is executive chef at the Greater China Restaurant Co. in Hong Kong. He previously held that role at the Mandarin Oriental hotel, then switched to burgers from fine dining.
They brought us a range of favorites, from the fancy and smothered to the simple and classic. And one chicken sandwich somehow slipped in. Here are their picks:
U.S.
Minetta Tavern, New York,The Black Label burger is a standout at this Greenwich Village bistro. It features prime dry-aged beef cuts with caramelized onions and pommes frites. "They do a beautiful job," Garutti says. "Their blend is by the same butcher, Pat LaFrieda, who created Shake Shack's." $30 (lunch menu)
Pizza Loves Emily, New York. "This is a pizza place that does a great burger," Collins says of this Brooklyn favorite. "It is in a pretzel bun with a cheese-and-buffalo-sauce mix. We've looked at how you mix buffalo sauce and cheese [at Meatliquor], but we haven't nailed it yet." $26, including fries
NoMad Hotel, New York. Chef Daniel Humm's dry-aged beef burger, simply served with cheddar, red onion, and special sauce, is revered by aficionados. "It's three-Michelin-star level," Opocensky says. $18
The Spotted Pig, New York. Chef April Bloomfield's burger at this West Village gastropub is one of the most celebrated in New York. It's served with Roquefort cheese and shoestring fries. "The size, the cheese, the fries: It is just so good," Garutti says. "It is perfectly done." $25
Shake Shack, New York. "When I'm leaving New York, I go to Shake Shack at JFK," Collins says. "It's better than plane food, and it's better than anything they serve in the Virgin lounge. It's a very good burger." Single, $5.55; double, $8.35
In-N-Out Burger, Los Angeles. This West Coast chain traces its history to 1948 and is a favorite for its high-quality ingredients and a secret menu that features a patty wrapped in lettuce. "It's the perfect West Coast fix," Opocensky says. Prices vary by location.
The Apple Pan, Los Angeles. This old-school diner in West Los Angeles was founded in 1927. "It is one of the great classic American burger joints," Garutti says. "You sit at the counter, and the guy is right there cooking your burger for you. It is one of the greatest, one of my absolute favorites."
Pie 'n Burger, Pasadena, California. Pie 'n Burger and the Apple Pan were both inspirations for Shake Shack, Garutti says. "They are classic roadside burger stands just done right—never grew, just did their one thing really well. They are just great experiences. Pie 'n Burger is classic." $8.05
White Manna, Hackensack, N.J. This historic burger joint in the New York City suburbs is a destination. "They were one of the first burgers anywhere in the country, before there was White Castle, which really birthed the mechanization of fast food, the assembly line," Garutti says. "But White Manna was first."
Louis Lunch, New Haven. This New Haven institution claims to have invented the hamburger sandwich in 1900. It's closed for much of the week and doesn't accept credit cards. "They open if they feel like it, and you are not allowed to have ketchup," Garutti says. "It is just a great-fun burger." $6
U.K.
Bar Boulud, London. "I've had Daniel Boulud's Piggy Burger in London, in New York, and in Singapore," Collins says. "It is always the same, and it is always great. In fact, it is brilliant." £19 ($24), including fries
Galvin at Windows, London. This restaurant and bar on the 28th floor of the Hilton on Park Lane has views across London. "If you want to eat a burger with one of the best views in the world, go and sit up there and watch the sun go down," Collins says. "The sliders are really good." £14
St. John Bread & Wine, London. Collins is a fan of chef Fergus Henderson's brain burger, made with calves' brains fried in panko breadcrumbs, together with shredded cabbage and sauce gribiche in a potato and onion roll. "It tastes like a really posh Filet-O-Fish," Collins says. £6.50
CUT, London. "If I am feeling flush, then Wolfgang Puck's burger," Collins says. "It is a gourmet burger at the next level, when you've got that skill set of chef and that financial clout behind you." £26
Nanban, London. "There is one burger and one burger only at [chef] Tim Anderson's place in Brixton," Collins says. "It has got gochujang sauce, pork belly, two big patties, and it is really, really nice."
Farmacy, London. This vegetarian restaurant is home to a burger made with millet, black bean, and mushroom, served with aioli, goji ketchup, avocado, pickles, and tomato on a vegan sourdough bun. "It is utterly delicious, and you can even get it gluten-free," Opocensky says.
Patty & Bun, London. This mini-chain started as a pop-up inspired by road trips across America. The first store opened in 2012; there are now six, serving a small menu of about a half-dozen burgers. "It's the first place I head in London," Garutti says. £8
Bundobust, Leeds. "It's a brilliant outfit," Collins says. "They do craft beer and vegetarian Indian street food. Their burger is double carbs: Indian spiced potato, deep-fried. It's got a good mouthfeel, and you can eat it with one hand. The spicing is lovely. You don't miss the meat." £5
France
Big Fernand, Paris. This is a young chain founded in Paris in 2012 that serves hamburgés with a French accent, not to mention French unpasteurized cheeses in a pain de mie seeded bun. "They do a good job," Garutti says. €12 ($12.50)
Denmark
Gasoline Grill, Copenhagen. "This place came on my radar from the guys at Noma, who did a collaboration with them," Collins says. "It's in an old petrol station, which is a novel outlet. They do a roadside burger not dissimilar to ours" at Meatliquor. 75 kroner ($10.50)
Australia
Chur Burger, Sydney. This Australian chain is known for gourmet burgers, starting with the basic grilled beef, cheese, tomato jam, mustard mayo, and pickles. "Beautiful combination with amazing taste," Opocensky says. "I love the salted caramel milkshake to go with it." A$12 ($8.75)
Belles Hot Chicken, Sydney. Opocensky swerves a little off-piste with this fried-chicken joint, which was founded in Melbourne. He says the chicken sandwich is "a must" in Sydney: "Go for the 'hot' option on the menu. This will blow your mind." A$17
Burger Project, Sydney. Chef Neil Perry first made a burger at his exclusive Sydney restaurant, Rockpool, and then developed a standalone chain. "Neil says he wants to make the burger he remembers from his childhood, when there was a milk bar on every corner, not a McDonald's," Opocensky says. "He got it spot-on."
South Korea
Burgermine, Seoul. As business concepts go, an all-you-can-eat burger joint sounds like a great idea. I mean, how many could anyone manage? You build your own from a buffet with multiple toppings and help yourself to unlimited fries. "This place is amazing," Opocensky says.
Japan
MOS Burger, Tokyo. This chain started in 1972 and has more than 1,700 outlets in Asia and Australia. The menu includes a rice burger and other specialties. "It's the Asian fast-food burger experience," Garutti says. "It's a huge company with a fantastic concept." 370 yen ($3)
Indonesia
Five Monkeys, Kuta, Bali. This burger joint also serves hot dogs and cold beers. But it's best known for its large, homemade burgers. "I love the barbecue bacon cheeseburger," Opocensky says. "The meat is juicy, and the barbecue flavor is delicious. It's a quick fix in Bali." 50,000 rupiah ($3.75)
Corner House, Kuta, Bali. "This is a beautiful restaurant serving delicious food, and the burger special is something to look out for," Opocensky says. "It's charcoal-barbecued with beautiful mature cheddar. You can't get any better."
News by Bloomberg, edited by Hospitality Ireland