Fast-Food Chains Find Some Health Nuts Are Too Tough to Crack
Published on Nov 15 2016 11:02 AM in Food tagged: Burger King / Healthy Eating / McDonald's / fast food / Papa John's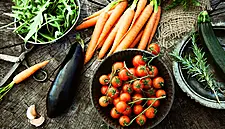 On her lunch break in Chicago's Loop, Erica Kelley often strolls by McDonald's, which beckons with some newer items straight out of a hipster cafe: antibiotic-free chicken, kale salads and whole-wheat...
On her lunch break in Chicago's Loop, Erica Kelley often strolls by McDonald's, which beckons with some newer items straight out of a hipster cafe: antibiotic-free chicken, kale salads and whole-wheat muffins.
The 33-year-old jewelry designer, who has a passion for animal welfare, would seem a natural customer for the new, more eco-friendly Golden Arches. But she still favors Peach & Green, a local cafe that advertises "all natural, locally sourced, wholesome food" like steel-cut, dairy-free oatmeal.
"It's just a gimmick," Kelley said of offerings such as McDonald's antibiotic-free buttermilk crispy chicken sandwich. "I still think it's gross."
Fast-food chains are shelling out millions to purge preservatives, artificial ingredients and other unmentionables. But they are learning that health nuts are tough to crack and other customers don't seem to mind that McDonald's special sauce may contain -- whatever. For their part, diet experts say the revamped items may not be all that good for you.
In October, McDonald's Corp. Chief Executive Officer Steve Easterbrook told analysts that Chicken McNugget sales rose 10 percent two months after one clean-food announcement. The company had declared all its poultry was now free of antibiotics considered important for human medicine, reducing the chance of superbugs developing resistance to human antibiotics. By 2025, McDonald's pledged, all its eggs would be from cage-free chickens.
'Progressive' Burgers
Easterbrook called the efforts long-term investments, key to transforming its image into "a modern, progressive burger company."
The world's largest restaurant company also said it plans to rid McNuggets of artificial preservatives; its buns, of high-fructose corn syrup. Last fall, in Germany, McDonald's, in a limited-time experiment, sold its first-ever organic burgers.
In October, Papa John's International Inc. said that it had nixed 14 "unwanted ingredients," including caramel color, vanillin and maltodextrin, a white powder often used to thicken or preserve foods.
To spruce up its food, the pizza chain is spending $100 million a year, 6 percent of its annual revenue. Chief Ingredient Officer Sean Muldoon said the company wants to appeal to moms and millennials.
Health Flops
Closely held Subway Restaurants, long known for its bleach-white baguettes, is selling a multi-grain flatbread. Earlier this year, it introduced rotisserie-style chicken raised without antibiotics
The industry's previous health kicks have fizzled, however. McDonald's has said its once heavily promoted salads make up just 2 to 3 percent of sales. Wendy's Co., the burger chain, even ripped out its ill-fated salad bars in 2006.
These flops suggest fast-food diners may care little about healthier options, according to W. Douglas Evans, professor of prevention and community health at George Washington University.
"Most of the people at McDonald's aren't there to get a salad," Evans said. "It's probably going to follow the same pattern."
Fast-food companies are trying to compete with restaurants such as Panera Bread Co., which began selling antibiotic-free meat 13 years ago. Last year, sales at such "fast-casual" restaurant chains jumped 12 percent, compared with 4.4 percent for fast food, according to industry researcher Technomic.
McDonald's and its ilk "don't have a choice," said Bill Chidley, co-founder and partner at ChangeUp, a brand consultant in Dayton, Ohio. "They have to respond in some way."
Bro Food
Maybe not. Burger King is skipping the healthy claims. Instead, it is sticking with bro-friendly fare like the "Whopperito": the ingredients of its flagship quarter-pound Whopper burger, plus queso sauce, rolled into a burrito.
In September, Burger King, owned by Oakville, Ontario-based Restaurant Brands International Inc., doubled down, introducing Cheetos-flavored chicken fries. Customers seem quite sated. Last year, Burger King's same-store sales rose 5.4 percent, more than three times the increase at McDonald's.
Then, there's the cost. This year, global food prices fell to a seven-year low. So chains can afford to experiment with pricier items – like antibiotic-free chicken -- but the trend could reverse.
Michael Halen, a Bloomberg Intelligence analyst, said restaurants may eventually be forced to raise prices or the more-expensive fare may cut into profit.
"The customer's got to pay for it," Halen said. "How much will they accept?"
Consider that, in Chicago, near McDonald's headquarters in Oak Brook, Illinois, the company charges $4.99 for a chicken sandwich sans antibiotics, about the same as Burger King asks for their conventional version.
'Deceptive' Marketing
There's also a dirty little secret about cleaner-sounding options. They often aren't, according to Jessica Almy, deputy director of nutrition policy at the nonprofit Center for Science in the Public Interest. "Marketing can be deceptive," she said.
McDonald's "big breakfast" platter, which has real butter and preservative-free scrambled eggs and sausage, contains 750 calories. Panera's antibiotic-free Chipotle Chicken Avocado Melt has 800 calories and about 80 percent of a day's salt intake. Panera said its wholesome-sounding choices are more about dining pleasure.
"We know clean food tastes better," said Sara Burnett, director of wellness and food policy.
Consider again Erica Kelley, the jewelry designer who avoided McDonald's. For a recent weekday lunch, she picked Pret A Manger -- owned by the private equity firm Bridgepoint Capital and in which McDonald's once held a 33 percent stake.
Pret sells antibiotic-free chicken, turkey and roast beef, as well as cage-free eggs. Its coffee is organic. Kelley bought an $8.49 roast beef and horseradish cream baguette. It may have been drug-free, but it packed 580 calories and half a day's worth of sodium -- more than a Big Mac.
News by Bloomberg, edited by Hospitality Ireland