McDonald's Same-Store Sales Top Estimates as Declines Abate
Published on Jan 23 2015 3:26 PM in Food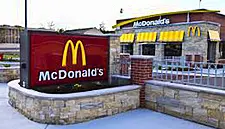 McDonald's, the world's largest restaurant chain, posted same-store sales that declined less than analysts expected as menu changes started to turn around results in the US.
Sales at global McDonald's locations open at least 13 months fell 0.9 per cent in the fourth quarter, the Oak Brook, Illinois-based company said today in a statement. Analysts estimated a 1.5-per-cent drop, according to Consensus Metrix. Net income, meanwhile, fell 21 per cent.
McDonald's is reorganizing its US operations, trimming menu items to speed up service and adding more customizable burger options to win back younger customers from fast-casual chains such as Chipotle Mexican Grill Inc. In a sign that the changes may be starting to gain some traction, McDonald's US same-store sales rose 0.4 per cent in December, the first monthly gain in more than a year.
"It's definitely not a pretty picture, but maybe not as bad as we were all expecting," said Will Slabaugh, an analyst at Stephens Inc. in Little Rock, Arkansas. "We've been looking at multiple months in a row of negative -- to turn that number is a pretty good sign."
Last month's US same-store sales increase beat estimates for a 0.8 percent drop and marked the first gain since October 2013. For the fourth quarter, U.S. same-store sales fell 1.7 percent, better than the 2.1 percent drop analysts projected.
The shares rose 0.3 per cent to $91.19 at 9:36 a.m. in New York. McDonald's dropped 3.4 per cent last year.
Net income fell to $1.1 billion, or $1.13 a share, from $1.4 billion, or $1.40, a year earlier. Excluding the effects of foreign-currency exchange-rate fluctuations, profit would have been $1.21 a share. The average of 23 analysts' estimates compiled by Bloomberg was $1.22.
Fourth-quarter revenue fell 7.3 percent to $6.57 billion, trailing analysts' $6.67 billion projection.
In the region that includes Asia, the Middle East and Africa, same-store sales fell 4.8 per cent, compared with a projected 4.6 per cent drop. McDonald's same-store sales in Japan slid 21 per cent in December after the chain was forced to ration potato fries as a labor dispute at US ports crimped supplies of potatoes.
McDonald's has had other challenges in Asia. Last month, McDonald's Japan unit said a human tooth was found in fries and plastics in chicken nuggets. The safety issues and fry shortage came after a food supplier scandal in China hurt sales in Asia.
Same-store sales in Europe fell 1.1 per cent. Analysts estimated a 1.3 per cent decline.
Bloomberg News edited by HI