Aer Lingus Denies Belfast Contract
Published on Apr 23 2015 2:43 PM in General Industry tagged: Aer Lingus / airlines / Belfast / airports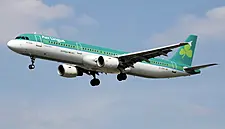 Aer Lingus has told the High Court that it never had an agreement with Belfast International Airport to keep a base there.
The airport is seeking £20 million worth of damages for breach of contract, claiming it had "a binding commitment" with the airline for a ten-year deal.
However, lawyers representing Aer Lingus now claim that no such deal was in place, according to BBC News. They claim that it only ever had a commercial agreement, where it would pay when it used to airport.
The two parties originally struck a deal in 2007 before Aer Lingus moved operations to George Best Belfast City Airport in 2012. The wording and terms of that original deal is now under dispute.
A barrister speaking on behalf of Aer Lingus repudiated the claim made by the airport that a ten-year contract was struck via letters between the two sides.
"It's a pricing agreement and no more," he said. "There's no such term in the letter, and there's no such term in the internal papers."