Aer Lingus Records Q1 Losses for 2015
Published on Apr 29 2015 12:12 PM in General Industry tagged: Aer Lingus / airlines / IAG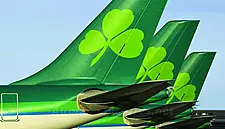 Aer Lingus posted losses of €48.4 million for the first three months of 2015, a result in line with seasonal expectations.
The loss was almost identical to the same period in 2014, when it lost €48.5 million. The results were predictable for the period, with fewer customers typically travelling in the first three months of the year.
Revenues showed a marked increase for the first quarter up to €280 million compared to €260 million last year. This was attributed to "excellent" performance on long-haul activity, rising by almost 40 per cent to €82.5 million.
The airline said that, despite the loss, forward trends were positive and profits are expected to be up to around €90.4 million, an increase of over €18 million from 2014.
Meanwhile, Aer Lingus executives remain "strongly in favour" of the proposed takeover bid of Aer Lingus by British Airways parent company IAG.
"The IAG offer to acquire 100 per cent of Aer Lingus will deliver significant benefits for all Aer Lingus stakeholders," said Stephen Kavanagh, the airline's recently-appointed chief executive.
"However, notwithstanding the opportunities that this combination will bring, we are focused on building Aer Lingus and improving our return on invested capital performance," he added.
Aer Lingus will continue its demand-based strategy on short-haul flights, to increase load factor in the coming months. Also, long-haul activities will be extended, with increased frequency to major US cities and the addition of a Washington route.