Aramark's Yvonne Pugh Named Irish Hospitality Manager Of The Year
Published on Dec 13 2016 10:28 AM in General Industry tagged: aramark / Irish Hospitality Manager of the Year / Irish Hospitality Institute's 50th Anniversary Founders Banquet / Frank Gleeson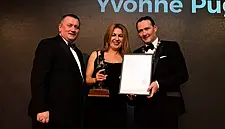 Aramark frontline manager Yvonne Pugh has been named Irish Hospitality Manager of the Year at the Irish Hospitality Institute's 50th Anniversary Founders Banquet.
The awards, which recognise outstanding achievements within the hospitality industry, were attended by over 500 hospitality industry professionals from across Ireland and Minister of State for Tourism and Transport, Patrick O'Donovan, was the guest of honor.
Discussing her win, Yvonne Pugh said: "I'm absolutely delighted to have won the Irish Hospitality Manager of the Year. With such high standards, stakes and levels of competition in the hospitality sector in Ireland, it is incredibly motivating to receive an award like this."
Frank Gleeson, managing director of Northern Europe for Aramark commented: "Yvonne has shown a constant commitment to excellence in her work for many years. The Irish Hospitality Manager of the Year award is a wonderful accomplishment acknowledging her dedication to refined quality at a national level. These awards are a great opportunity to recognize outstanding work by outstanding employees. Aramark's commitment to enriching and nourishing lives can only become a reality by the practices of our staff, and we are delighted that this commitment was acknowledged and awarded at the IHI awards."