Boeing Targets 2025 For New Jet But Won't Rush Decision
Published on Jun 25 2018 10:00 AM in General Industry tagged: Trending Posts / Boeing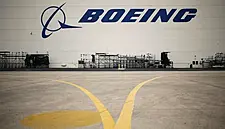 The head of Boeing jetliner sales has expressed his confidence that a possible new mid-market jet with the potential to carve out new routes will be ready to enter service in 2025, but stressed the planemaker will not be rushed into a decision.
Boeing is studying plans for what industry sources describe as a hybrid jet combining a wide cabin and a restricted cargo space, moulded to fly efficiently in a space between the industry's single-aisle jets and wide-body long-haul aircraft.
But it has been taking longer than expected to resolve questions about how to build the jet at a low enough cost to fit the market niche, prompting some suppliers to urge a decision soon to avoid slipping past a desired 2025 debut date.
Ihssane Mounir, senior vice-president for commercial sales and marketing at Boeing, told French journalists Boeing would "protect" the targeted 2025 date for entry into service, which some analysts see as ideally suited to planned replacement cycles.
He declined to say when Boeing could make a decision on the possible twin-aisle plane, which has been the source of speculation among airlines and investors for around two years.
"We will take the time to do this right...but we will protect the date of introduction for the aircraft," Mounir told the AJPAE French aerospace journalists' association.
"Based on where we are today, we are very comfortable with the fact we can do it by 2025, but we haven't made a decision."
Experts say the call on whether to launch the plane is one of the most significant decisions Boeing will make in coming years, because it will prepare ground for the next generation of smaller single-aisle jets by pioneering new production methods.
PRODUCTION 'REVOLUTION'
The search for cheaper new ways of building planes at high volume to meet growing demand is fast emerging as a strategic battleground between Boeing and European arch-rival Airbus, which unveiled more robots and automation last week.
Mounir deflected a question about future successors to the single-aisle 737, sayingBoeing was comfortable with its record order book for the current model.
But he said the new mid-market plane would focus on what he described as a "revolutionary production system" incorporating new digital technology.
"It's not a plane that will be technologically much more advanced than what we have today. What will be very advanced is the production system," Mounir said.
Mounir said "conservative" estimates showed global demand for 4,000 to 5,000 middle-of-the market jets over 20 years.
Airbus disagrees with the forecast.
Mounir dismissed reported plans by Airbus to enhance its best-selling A321 single-aisle jet, saying it would not cover the same range or operate as economically asBoeing's proposal.
Reuters reported this week that Airbus is considering adding extra endurance to the longest-range version of its A321 jet in a potential new variant dubbed A321XLR.
Mounir said talks with Brazil's Embraer over a possible commercial aerospace venture were "advanced". Boeing insists it is not a "must-do" deal, however.
News by Reuters, edited by Hospitality Ireland. Click subscribe to sign up for the Hospitality Ireland print edition.