Expansion Of Madrid to Cork Route More 'Good News' For Irish Tourism
Published on Nov 22 2016 11:26 AM in General Industry tagged: Cork / Tourism Ireland / Madrid / Iberia Express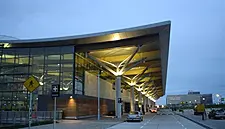 The CEO of Tourism Ireland expects a further boost for Irish tourism next year following news the Iberia Express flight from Madrid to Cork is to be expanded for summer 2017.
From the beginning of June until September, the service will operate twice a week and will help to boost leisure and business travel from Spain to Cork as well as the South of Ireland.
Tourism is Ireland's largest indigenous industry and employs approximately 220,000 people. Last year Ireland welcomed 9.5 million overseas visitors to the island of Ireland, delivering revenue of €4.9 billion.
Niall Gibbons, CEO of Tourism Ireland, said: "The extension of this Iberia Express flight from Madrid to Cork is more good news for Irish tourism in 2017, expanding travel options for Spanish holidaymakers wishing to visit Cork and the South of Ireland. We will continue to work closely with Iberia Express and Cork Airport to maximise the promotion of the service. As an island destination, the importance of convenient, direct, non-stop flights cannot be overstated – they are absolutely critical to achieving growth in visitor numbers.
"Spain is an important market for tourism to the island of Ireland and 2016 looks set to be another record year for Spanish visitors, with the latest CSO figures showing an increase of +12.4 per cent for January to September. We are determined to ensure that growth continues. We have a busy promotional campaign under way right now – aimed at boosting late-season travel to Ireland from Spain and to position us well for 2017."