First Transatlantic Flight Lands at Knock Shrine
Published on Aug 10 2015 12:20 PM in General Industry tagged: Aer Lingus / tourism / Knock Airport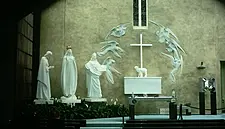 The first ever chartered flight from New York to the pilgrimage sight in Knock touched down in the airport, carrying 178 pilgrims on board.
The Aer Lingus flight landed in Knock Airport at 8:30am on  Sunday and those on board were greeted by Taoiseach Enda Kenny and other local representatives, as well as a host of local musicians. Cardinal Timothy Dolan, the Archbishop of New York, was on board leading the pilgrimage.
Kenny welcomed the visitors, adding the potential that Knock has to be an iconic visitor spot for religious pilgrims. "There is no reason why Knock cannot stand on the pedestal of the great Marian Shrines of the World such as Lourdes or Fatima," he said.
The religious shrine welcomes a total of 1.6 million visitors each year. The interior of the basilica has been revamped since October at a cost of millions. It's hoped that figure will rise to at least three million in the coming years.
Cardinal Dolan will officially launch the 2015 National Novena in Knock on August 14th, which is expected to attract up to 150,000 people over nine days.