Food On The Edge 2017 Launches In London
Published on May 9 2017 11:27 AM in General Industry tagged: Food On The Edge / Nathan Outlaw / Magnus Nilsson / Robin Gill / Dan Mulhall / Bethnal Green / The Black Box / Ana Ros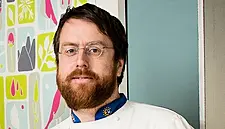 Irish Ambassador to the UK, Dan Mulhall, was among those gathered to launch the 2017 rewnewal of the Food On The Edge symposium at Robin Gill's Bethnal Green restaurant in London yesterday (May 8).
The event, which is due to take place at The Black Box on Dyke Road in Galway between October 9 and 10, will encompass a combination of panel discussions, masterclasses and 15 minute talks from participants.
As reported by The Irish Times, Ambassador Mulhall was joined at the symposium's London launch by chefs Nathan Outlaw, Matt Orlando and Robin Gill, all of whom gave talks about how being involved with the symposium in the past has impacted their lives both professionally and personally.
This year's 54 chef line-up, which was officially announced at the launch by Food On The Edge director, JP McMahon, is led by Magnus Nilsson of Faviken, Sweden, Ana Ros of Hisa Franko, Slovenia and Niki Nakayama of n/naka, Los Angeles.
Themes for the 2017 symposium include caring and sharing our food and culinary heritage, looking to the past to create the future, food as a tool for social change and resistance, the importance of mentorship, the role of diversity and travel, sustainable protein, organic food and seaweed, the importance of family, accepting our failings and cooking as a call to act.