Game of Thrones Star Calls Belfast Tourism 'Depressing'
Published on Apr 24 2015 9:43 AM in General Industry tagged: Belfast / tourism / Northern Ireland / Game of Thrones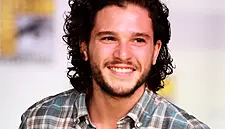 Kit Harington, who plays Jon Snow in the hugely popular HBO series, won't hired by the Northern Ireland tourist board any time soon after an appearance on the Seth Meyers show this week.
The actor, speaking about his time in Northern Ireland where most of his scenes are shot, described the tourism scene as "depressing".
Late Night host Meyers asked the 28-year-old about his feelings on Belfast where he has spent a large portion of his time over the last five years.
Although he described the city as "wonderful for two or three days", he was not overly enthusiastic about the major tourist attractions.
"They've got a wonderful tourist board, you know they celebrate three things, which is having the most bombed hotel in Europe, which is great, they built the Titanic which is a ship that sunk on its maiden voyage, and now they have Game of Thrones, the most depressing TV show in history," said Harington.
Despite the criticism, Northern Ireland has fared very well promoting the locations featured in the show, with several tour operators offering day trips to the sets.