Irish Tourism Remains 'Buoyant' But Warnings Over 'Plateauing' Sector Sentiment
Published on Jan 11 2017 11:46 AM in General Industry tagged: Featured Post / Ireland / Fáilte Ireland / tourism / Brexit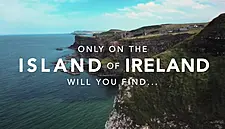 Irish Tourism sector sentiment may now be plateauing as concerns about Brexit take hold, according to Fáilte Ireland's latest Tourism Barometer Survey. The report stated that business sentiment acr...
Irish Tourism sector sentiment may now be plateauing as concerns about Brexit take hold, according to Fáilte Ireland's latest Tourism Barometer Survey.
The report stated that business sentiment across the tourism sector remains "buoyant", but there is evidence of optimism tempered by caution within the industry, fuelled mainly by the uncertainties around Brexit.
Fáilte Ireland's Tourism Business Sentiment Index, which reflects 2016 performance and 2017 expectations, showed that there has been a slight drop in positive sentiment. While three quarters (76%) remain confident about their business, the upward trend seen since 2010 has not continued.
With respect to 2017, the survey indicates that two thirds (64%) of paid serviced accommodation providers expect their business to further increase next year.  Hotels and visitor attractions are the most optimistic sectors with 67% expecting to build on growth in 2017.
Almost 80% of accommodation providers reported increased profitability in 2016, rising to 82% among hoteliers.  As visitor numbers increased across the industry, so too did employment levels, with a quarter (24%) of respondents taking on more full time staff this year, including 39% of hotels. Additionally, a third (32%) of respondents employed more part time and seasonal staff in 2016 compared to last year.
According to Fáilte Ireland, its destination brands appear to be contributing to much of the confidence in the sector regarding next year's activity. Four in five (80%) accommodation providers along the Wild Atlantic Way say that the brand will be positive for them next year. The newer Ireland's Ancient East brand is also expected to have a positive impact for 57% of operators within the region it covers. In Dublin, half (50%) of responding operators in the capital say that Dublin: A Breath of Fresh Air will benefit their business in 2017.
"While 2016 delivered an impressive performance, we need to remember that much of this growth has been fuelled largely by factors external to the tourism industry, not least increased air access into the island," said Fáilte Ireland Chairman Michael Cawley.
"As a small open tourism economy, we are at the mercy of external events and the unexpected Brexit and US presidential results – with their potential for volatility – have certainly softened the cough of anyone tempted to be complacent. We need to stay awake at the wheel and get a grip on those factors we can control. We need to keep our competitiveness, develop further our current stable of branded visitor experiences and ensure that we target those overseas markets which offer the most reliable returns in the near future."
Brexit dominates as a concern for tourism businesses going into 2017, mentioned as an issue for 64% of respondents to the Tourism Barometer.  Many businesses feel that British and Northern Ireland tourism demand will be dampened by the impact of the Brexit process on exchange rates in the short to medium term.