Lufthansa Says Eurowings Could Be Focus for Short-Haul Mergers
Published on Aug 5 2015 12:31 PM in General Industry tagged: Ryanair / Lufthansa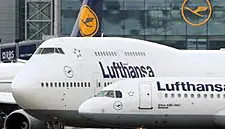 Deutsche Lufthansa said its new Eurowings brand, formed to counter competition from discount rivals such as Ryanair, could be a vehicle for consolidation among other airlines under pressure from low-cost specialists.
The establishment of Eurowings as an "open platform" with flights spanning the current Germanwings discount arm, Lufthansa short-haul services and even operations in Austria, makes the former regional carrier ideally suited to incorporating a variety of airlines, Chief Executive Office Carsten Spohr said.
Short-haul operators nudged toward consolidation as air fares decline amid capacity hikes at discounters including Ryanair, EasyJet and Wizz Air "may need an adaption of their business model" of the kind that Eurowings could offer, Spohr said at a briefing.
A handful of full-service European carriers remain between the fast-expanding low-cost sector and the three major groups led by Lufthansa and its network rivals Air France and British Airways, whose owner IAG already has an in-house discount arm in Barcelona-based Vueling SA. They include tri-national Scandinavian carrier SAS AB, LOT Polish Airlines SA and Brussels Airlines, in which Lufthansa has a 45 per cent stake.
"They are not such easy targets as were Swiss or Iberia, which you could buy as they were," Spohr said, referring to airlines now owned by Lufthansa and IAG respectively. "Look for a couple of synergies and you were all set."
While Spohr says Eurowings has the potential to become Europe's third-biggest low-cost carrier, he's struggling to make the model stick even at Lufthansa as pilots battle to retain benefits by a staging a series of costly walkouts.
Attempts at arbitration failed and there is no date for talks, though the CEO said he's "happy" the union will help cut costs after realizing that "if the employer does not move after 13 strikes, it will likely also not move after the 14th."
Lufthansa is also in dispute with its main cabin crew union over issues spanning pay to pensions, while talks with ground workers are due to resume at the end of September. "It's a lot of changes at the same time," Spohr said. "But we must solve this problem, even if the price for it is a labour dispute."
News by Bloomberg, edited by Hospitality Ireland