Lufthansa's Latest Savings Plan Falls Short as Fares Slide
Published on Jun 16 2015 9:48 AM in General Industry tagged: Lufthansa / airline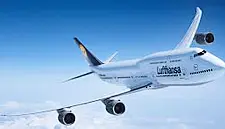 Deutsche Lufthansa's latest efficiency program will fail to deliver the planned profit contribution this year as fuel costs and falling ticket prices eat into earnings faster than the German carrier can cut costs.
The efficiency program dubbed score will lift annual operating profit by about €800 million euros, Joerg Beissel, a manager on the Score project, said in a staff newsletter Friday. That's barely half the €1.5 billion yearly saving sought when the program began in 2012.
Lufthansa "did not expect headwinds" of the scale that it's facing in terms of fuel costs and declining yields - a measure of fares - Beissel said, while adding that almost 6,000 savings measures have been implemented, delivering a higher- than-envisaged gross profit to date of €3.6 billion.
Chief Executive Officer Carsten Spohr cut financial targets twice in his first year as leader, acknowledging that the Score can't on its own counter competition from local low-cost carriers and long-haul airlines with hubs in the Gulf. Lufthansa's previous Climb plan aimed to lift annual operating profit by €1 billion but delivered only 64 per cent of that.
Labour issues that last year sparked a series of pilot strikes, costing Lufthansa €300 million, also remain unsolved as the carrier seeks to bundle European services away from its main hubs under the Eurowings discount brand.
Lufthansa expects operating profit excluding costs from further walkouts to top €1.5 billion this year.